Ian Holm in Alien
Ian Holm:
a life and career in pictures
Ian Holm was born on 12 September 1931 in Goodmayes, Essex. He graduated from Rada in 1953 and joined the Royal Shakespeare Company in 1960. Here he is with two other young RSC actors Ian Richardson and David Warner at Stratford-upon-Avon on 15 December 1963
The Homecoming, 1966
His performance in the RSC production of Harold Pinter's play at the Aldwych theatre in London (here with Vivien Merchant) won him the Tony award for best featured aActor in a play in 1967
Richard III, 1966
His performances for the RSC led to him being offered the role of Richard III in the BBC's The War of the Roses, and his screen career began
Romeo And Juliet, 1967
Onstage with Estelle Kohler in the RSC production at Stratford-upon-Avon
The Bofors Gun, 1968
Holm's film debut won him the Bafta award for best supporting actor. Pictured here with David Warner and Donald Gee
Ian Holm with his Bafta award for The Bofors Gun with Lord Mountbatten and Billie Whitelaw, who won best supporting actress for Twisted Nerve and Charlie Bubbles
A Midsummer Night's Dream, 1968
Ian Richardson as Oberon and Ian Holm as Puck
The Lost Boys, 1978
Holm was nominated for the best actor Bafta TV Award for his portrayal of JM Barrie
Alien, 1979
Tom Skerritt as Dallas and Ian Holm as the treacherous android Ash attempt to remove a facehugger from John Hurt's Kane
Chariots of Fire, 1980
Holm was nominated for an Academy Award and won the Bafta for best supporting actor for his role as coach Sam Mussabini, seen here training athlete Harold Abrahams, played by Ben Cross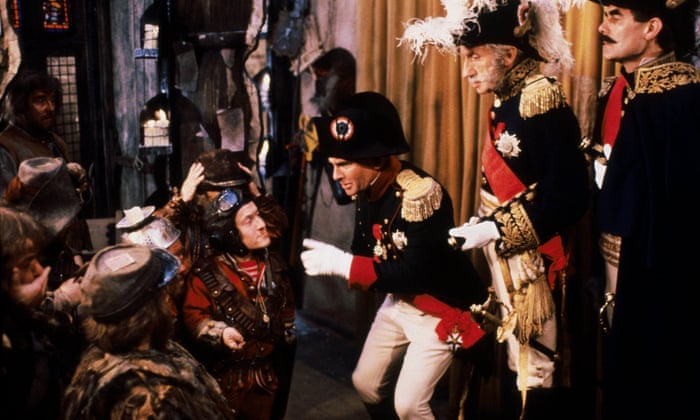 Time Bandits, 1981
Holm played Napoleon three times in his career
Greystoke: The Legend of Tarzan, 1984
Holm was nominated for the best supporting actor Bafta award for his portrayal of Capitaine Phillippe D'Arnot, seen here alongside Christopher Lambert's John Clayton/Tarzan
Dance with a Stranger, 1985
Miranda Richardson and Ian Holm in the story of Ruth Ellis
Game Set and Match, 1988
Holm played Bernard Samson, alongside Amanda Donohoe's Gloria Kent in this TV adaptation of Len Deighton's spy novel series. Holm was nominated for the Best Actor Bafta TV award
Henry V, 1989
Ian Holm as Captain Fluellen and Kenneth Branagh as the king
Moonlight, 1993
Holm, pictured with co-star Anna Massey, won the Evening Standard award and the Critics' Circle theatre award for best actor in the play by Pinter at the Almeida theatre, London
The Madness of King George, 1994
Nominated for the Bafta award for best performance by an actor in a supporting role as Dr. Willis
The Fifth Element, 1997
Holm played Father Vito Cornelius in the Luc Besson sci-fi epic, which starred Bruce Willis and Milla Jovovich.
Ian Holm and his then wife, Penelope Wilton, outside Buckingham Palace on 8 December 1998, after receiving a knighthood for services to drama. Holm was married four times and had five children
The Lord of the Rings: The Fellowship of the Ring, 2001
Elijah Wood as Frodo and Ian Holm as Bilbo Baggins
Photograph: Andrew Cooper
Ratatouille, 2007
The character Skinner was voiced by Holm
Photograph: Tom Pilston