Over and Out by Henry Blofeld – digested read
'In the commentary box were several cases of vintage claret – we were squiffy for the entire five days. At a guess, Australia won by an innings and 112 runs'
John Crace
Sun 17 Dec '17 17.00 GMT
Over and Out by Henry Blofeld.
Illustration by Matt Blease
y dear old things, how awfully kind of you to join us as a pigeon circles overhead and three red buses make their way down the Harleyford Road. What's that? Oh, I'm most terribly sorry, we're not at the Oval at all. We're at Old Trafford so there aren't any buses. Anyway England are 43-2 with Joe Root rebuilding the innings on 17 not out and someone whose name I can't pronounce is bowling. Which reminds me of the time when I once went to Alf Gover's cricket school for a lesson and Alf never appeared because he had got himself locked in the lavatory.
Where was I? Oh yes, it dawned on me one day this summer that I ought to retire. So I rang up Adam Mountford at the BBC to tell him and he said he thought that was a good idea too, which rather took me aback. But everyone has been so lovely to me since then and it was such a thrill to be allowed to ring the five-minute bell at Lord's during my final Test match. As I was making my way to the ground that morning,
Aggers
told me the story about the time
Dickie Bird
rang the bell six times instead of the regulation five and jolly nearly caused a diplomatic incident
.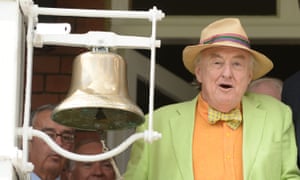 Henry Blofeld rings the bell at Lord's cricket ground. Photograph: Philip Brown/Getty Images
I suppose that in an ideal world I would have played cricket for a living rather than commentating on it but riding my bicycle into the side of a bus when I was at school rather put paid to that, as I was never the same batsman afterwards. Though I did go on to play some first-class cricket for Cambridge. Happy days. Which reminds me of the time Keith Miller turned up late for a day's play after spending the night with a gloriously upholstered barmaid. If my memory serves me well, I even dropped him on 3 after which he went on to score a simply marvellous unbeaten hundred.
The two years I spent working in the City were the most miserable of my life and I was delighted to be offered a lifeline writing match reports for the Times. My first game was supposed to be Sussex v Kent at Hove but I had misheard the editor on the phone and thought he said Essex and so went to Colchester instead. I then had to drive like the wind, via my club in London to pick up a couple of bottles of the finest 1959 Chablis, to get to the south coast where I made it for the final session of play. Back in those days, no one seemed to mind if you didn't know what you were doing so I duly made up the day's cricket I would like to have seen.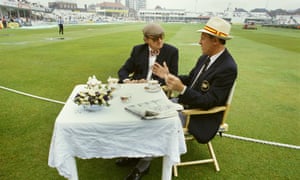 Henry Blofeld, left, with Geoffrey Boycott in 1991. Photograph: Adrian Murrell/Getty Images
My first radio commentary stint was alongside John Arlott, affectionately known as Arlers. It's a longstanding tradition that everyone in the commentary team is given a nickname. That's why we have Johnners, Blowers, Aggers, Daggers, Staggers, Shaggers and Tuffers. The producer is Peter Baxterers which always makes Vaughaners choke with laughter on his chocolate cake. I can't remember very much about my first game as Arlers asked me to help him carry two suitcases up to the commentary box on the first morning. Inside were several cases of vintage claret and we were squiffy for the entire five days. At a guess, Australia won by an innings and 112 runs, though that may not be right as the Test was between England and New Zealand.
In the early 1990s I was asked to do a bit of television commentary for Sky but it wasn't a terribly successful venture as I hadn't realised people would be expecting me to report accurately. On radio a chap can get away with saying Jimmy Anderson has just edged a single to third man when in fact he missed the ball completely because the listener is none the wiser either way. So I was relieved when Baxterers invited me back to TMS otherwise yours truly would have been out of a job.
Over the years I have been lucky enough to travel all around the world to watch cricket. India is a lovely place. I remember going tiger shooting with Lord Tennyson and collapsing in stitches when he killed the goat by mistake. Pakistan can be a bit hairy as a chap needs to smuggle a case of whisky into his luggage to make the tour go with a swing, and I did once have a bit of fun relating the size of women's boobs in the crowd to the size of their earrings.
But now I must leave you, my dear old things. It's all been the greatest of fun. For me, if not always for you.
Digested read, digested: The Age of Entitlement.