Andrea Camilleri
Andrea Camilleri
BIOGRAPHY
The Young Montalbano:
Reinterpreting the detective
Friday 04 October 2013, 10:29
I played a soldier from Garibaldi's army and I had a very scruffy look: unkempt beard, matted hair, mud stains on my face.
A rocky start for Montalbano (Michele Riondino) and his deputy, Mimi Augello (Alessio Vassallo)
No one knew he was looking for a little-known actor up to the challenge to take on the role of the detective at a younger age.
No one knew that among his projects lay that of shooting the prequel of the iconic character, based on the very first novels by Andrea Camilleri.
A few days later I received a phone call from my agent who told me about a phone conversation with Degli Esposti and how he had been impressed by my look.
He told me that Carlo had in mind having young Montalbano as somewhat of a Che Guevara and that my red shirt soldier had convinced him I could be him.
I was extremely flattered by the proposal but I didn't accept immediately. It took me several months before I managed to convince myself.
Montalbano was always Luca Zingaretti. Anyone in Italy and abroad thinks of him when picturing the character.
Needless to say he always interpreted Montalbano perfectly, giving back all the complexities of his personality.
Salvo Montalbano isn't a simple character, many ambiguities distinguish him.
He really loves women but always ends up running from them, they make him uneasy and insecure.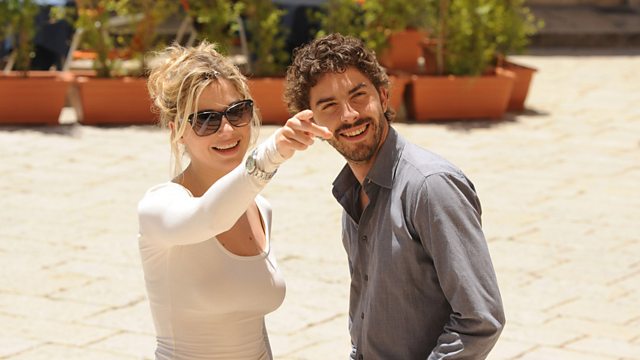 Livia (Sarah Felderbaum) starts dating Salvo after they meet through one of his investigations
All the while he is a stable and tenacious person, and stubborn, just like the typical Sicilian stereotype. He finds it extremely difficult to respect hierarchies, particularly men having more important roles than him.
Yet he is an impeccable detective, who learned everything from his inspector, who gave him all the necessary tools to be an incredible cop.
He also has a tendency to stand up and take care of the weaker, even if they were to go against a law that in some instances to him, was arguable.
Basically Montalbano isn't just a policeman, but he also is a citizen, a defender of the polis, of the civil life.
Montalbano suspects a notice board stolen from the town hall spells trouble for an engaged couple
I feared some sort of media attack, since changing the face of the detective was almost blasphemy to some.
So I raised two requests: the first was to meet and discuss the idea with Andrea Camilleri, the second was to have my own freedom regarding the use of the dialect, meaning I wanted to feel free to not worry about the "understandability" of some terms.
In the novels, the Sicilian used is a very archaic dialect, a mix coming from various places in Sicily. I was keen to keep it as it was, after all the books didn't provide notes or explanations either.
The production accepted, Andrea was happy to meet and approve me, and he kept me talking about the character for hours. I listened and stole as much information as possible.
It isn't every day an actor gets to talk about the character with the person that created him. In other words, I accepted the challenge.
The desire to do as well as Zingaretti and his team gave our whole team a particular energy that accompanied us for the whole six months of production.