Mariel Hemingway
Mariel Hemingway on her famous family, traumatic childhood
Richard Ouzounian
Friday July 31, 2015
Woody Allen and Bob Fosse both tried to get her into bed before she was 21, her grandfather was one of the most overwhelming literary personalities of the 20th century and she grew up in a home filled with addiction, heartbreak and illness, both physical and mental.
Mariel Hemingway has had such an astonishing life story that's it no wonder she had to tell it twice.
Hemingway, now 53, has written a pair of matching volumes that chronicle her turbulent existence in two different styles for two different reading audiences.
Invisible Girl is the smaller of the two books, a delicately penned version of the trauma that filled Hemingway's early life, written for teenagers as though the author herself were a teen again.
Mariel Hemingway
"I think it's the voice of the young me, back when I had the least life experience and the least ability to understand
who my family was
," says Hemingway from her California home. "You don't realize that people you love drinking and screaming all the time isn't normal behaviour and isn't behaviour that you, as a kid, should have to cope with.
"But I knew all that stuff from an early age and so I thought I'd share the experience with kids who feel a little isolated, a little scared, a little alone."
We meet her hard-drinking dad, always labouring in the shadow of his own father, the great writer Ernest Hemingway, who shot himself to death only four months before Mariel was born in 1961.
Then there's her mother, a worthy boozing and battling partner for her spouse until a long and painful fight with cancer ended that chapter.
"I think it's important for kids to know that things can turn out badly," insists Hemingway. "You don't learn how to deal with the pain of life by running away from it or ignoring it."
That includes her relationship with her two sisters, Joan (known as Muffet) and Margo (who later changed her name to Margaux).
"Muffet was the freer spirit," recalls Hemingway. "She wasn't a tough girl and when she got involved in the world of drugs it shattered an already frail mind." Joan was institutionalized on several occasions for manic depression and lives a quiet, solitary life today.
"My sister Margaux's pain was a lot more palpable. She dropped me on my head the day I was brought home from the hospital and later on she knocked out my two front teeth. She just didn't want to have this mistake of a baby sister in her life."
Margaux was the first one to break into the world of show business and when she was cast in the thriller Lipstick, she insisted her 14-year-old sister Mariel play her sister, who was raped by a demented stalker in the movie.
Mariel Hemingway
Hemingway ends Invisible Girl at this point in the story, with a useful list of organizations where young people facing trouble with alcoholism, drug addiction, parental abuse or mental illness can go for help.
But when you pick up the second volume, Out Came the Sun, you realize that many of the toughest strands of Hemingway's existence were woven together once she left her childhood.
It's fascinating to cover the same territory as Invisible Girl, only written from a more objective, less-involved point of view, seeing the darker patterns that a child would never have noticed.
"There's got to be someone in the family who decides they're not going to be the victim and that someone was me," says Hemingway calmly, without rancour.
"In Invisible Girl, I wrote about the immediate experience I had as a child. In Out Came the Sun, it was almost like fiction. Like The Lovely Bones, looking back at your life and watching it unfold, even though you know it.
"I grew up with my mother sick, with my mother dying before my eyes, with one sister always on the edge of mental instability and the other heading toward her eventual suicide." (Margaux would die of a barbiturate overdose in 1996.)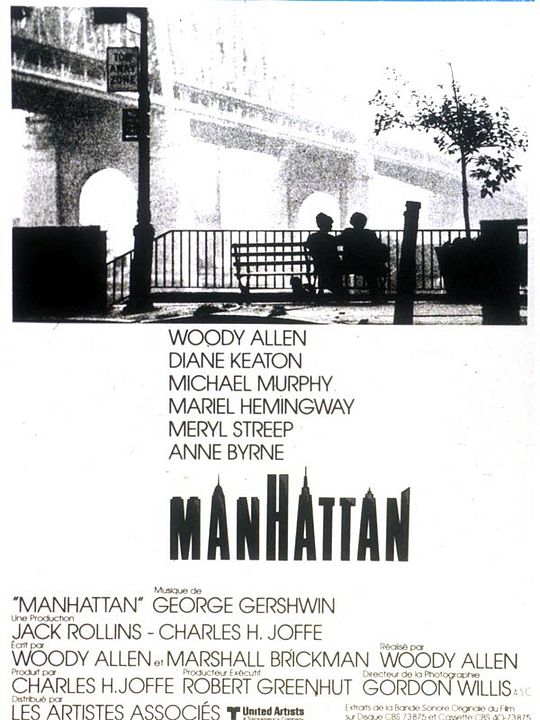 And in the middle of all this, Hemingway was to make several deeply troubling movies, one of which would earn her an Academy Award nomination.
Manhattan came first, the picture which would take her close to an Oscar and also introduce her to Woody Allen.
She played the high school student, Tracy, who had numerous bedroom scenes with Allen, but he never made any advances on her during the filming. That came after.
"I don't think that he's the devil incarnate. Let me get that straight. That's just my personal belief. I don't think he's a dark, sinister person. I think he's an eccentric artist who's attracted to younger women.
"And that became apparent to me when he visited me in my Idaho home after we shot the movie. There were no nightclubs, no museums, no theatres. He could see how pure and innocent I really was, no matter who I had played in Manhattan."
Allen kept insisting he wanted to take Hemingway to Paris and she kept trying to avoid the issue, but when he wouldn't stop, she finally asked, "Woody, I wouldn't have my own room in Paris, would I?" When he admitted that was the case, the conversation ended forever.
Her next problematic director was Bob Fosse on Star 80, who breezily told her, "I slept with all my leading ladies, except Shirley MacLaine," but she wasn't having any of it.
"I knew that playing Dorothy Stratten (the Vancouver girl-turned-Playboy-model who was brutally murdered by her ex-boyfriend) was going to be difficult enough without adding that layer of complication.

"But I understood her. I knew what it meant to go through life as a people pleaser, trying hard not to make life difficult for anyone. I thought playing it would purge me of those feelings, but I hadn't thought through things to the end, lying there for days, drenched in blood, wearing a blown-up prosthetic face."
When Star 80 was a disaster, Hemingway realizes now that "I should have gone to work on something else more quickly," but, stunned by the experience, she withdrew to Idaho and her subsequent show business efforts never really caught fire.
So she set about
living her life
, putting the pieces together, pausing to suffer through the shock of Margaux's suicide.
"Mental illness is such a difficult thing to understand. Some people plan suicide for 20 years, some decide on it in 20 minutes. The hardest part for those of us who go on is that the person isn't there for their birthdays or for Christmas anymore."
What finally brought Hemingway out of the shadows was the realization that "lifestyle is so important. The tougher the path of addiction you've suffered through, the more changes you have to make afterwards."
"We've all been blessed with body, mind and spirit. We just need to figure out the combination of things that will let them exist happily inside of us."
"They treated me so nicely, so carefully during that filming, I never even realized my character had been raped until I saw the finished movie."
"I loved being in that city, in that movie, in that world. Nothing bad happened to me while we were making it."
"Athleticism was always a major part of my life and I wanted to explore that in a film. It proved harder than I thought."
"There were times when it was such an exciting world to be part of and then there were times when it was sheer hell."
"Saying all those things out loud, making all those secrets about my family not secret anymore, that helped me so much."
Mariel Hemingway and Richard Ouzounian can be seen in conversation as part of the Star Talk series on Thursday, Aug. 13 at 7 p.m. at the Bram and Bluma Appel Salon of the Toronto Reference Library, 789 Yonge St.
THE STAR