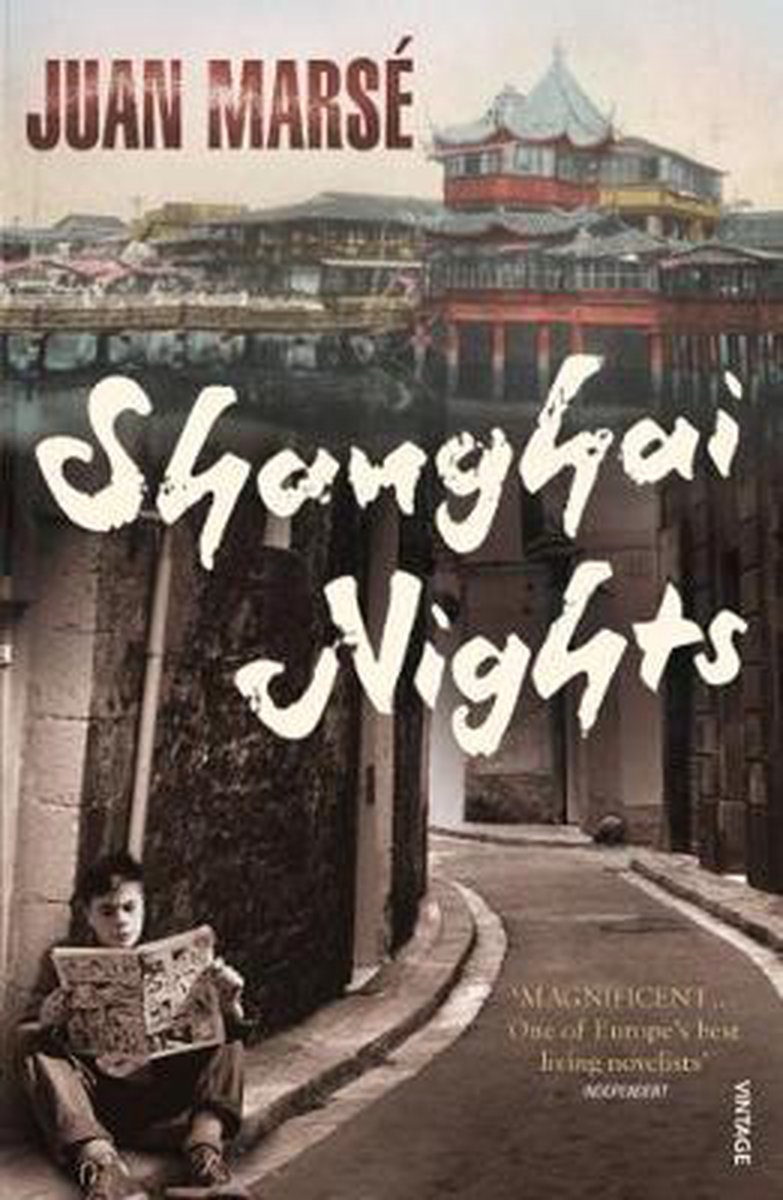 Juan Marsé and French Women
[A Month of a Thousand Forests]
Today's entry in the Month of a Thousand Forests series is Juan Marsé, who has a few book available in English translation: Golden Girl, Lizard Tails, and Shanghai Nights.
In this excerpt he talks a bit about this background and his time in Paris, which led to Últimas tardes con Teresa.
Juan Marsé (Spain, 1933-2000)
Like the character of the Pijoaparte, you came from outside the powerful and influential bourgeoisie and literary groups and you made it on your own. Was that hard?
It was sudden and almost improvised in the sense that, though I liked reading a lot, I never studied at a university and barely even in secondary school. When I was thirteen years old my mother told me that I had to drop out of school and start working. This wasn't a problem and didn't upset me at all—I wanted to get out of that school. They made us recite the rosary every day; it was a terrifying thing. It was an awful, old-fashioned school, and I was excited to do something that would get me out of there. So, when I decided to submit my first draft to an editor, I knew no one in the literary world, I had no idea what a literary life could be like. And then I met this group of people who were very refined, but who, on the other hand, with respect to social and political ideas of the nation, were openly leftist. I realized right away that these people were "señoritos" from the country's upper class—Goytisolo, Carlos Barral, Castellet—and for them, I was probably the first working-class person they knew. They advised me right away to get out of the country, and I'd been wanting to travel, so I published my first novel and I went to Paris. I lived with abandon. They thought while I was in Paris I would write, but I wrote absolutely nothing. I bought books—or sometimes stole them because I had no money at first—and went to the cinema to see movies that weren't shown here, and listened to music and went to the theatre . . . in other words, I devoted myself to living. A love affair now and then . . . in the end—freedom. And I joined the Party and became close friends with Jorge Semprún, who taught us classes on international politics. And it was there I conceived of Últimas tardes con Teresa. I gave a few talks in Spanish to some young French students, they were upper class, very refined, and one of them was named Teresa. Nothing at all to do with the character, but that's where the name came from. Then I quit my job at the Pasteur Institute with Jacques Monod, a famous researcher who won the Nobel Prize. My first novel was translated and published by Gallimard, the famous publisher who translated Faulkner and Dos Passos, Maurice-Edgar Coindreau. I worked in film; I started translating screenplays from French into Spanish for co-productions in France and Spain. But Últimas tardes was already in my head and I needed to come back. And taking advantage of a film that was being shot here and in Paris, I came with the crew and I stayed.
To finish the story, when I got back to Barcelona everyone asked: "So, how was your experience in Paris?" I told Carlos Barral, "I didn't bring anything." That is to say, yes, I brought an idea that I'm going to start working on right away, but it doesn't take place in Paris, it takes place here. More than anything I remember a conversation with old man Lara, who said to me in his Andalusian accent: "How is it possible that you came back from Paris without a novel? Those French women will do anything. Not one story about a French woman? Those things sell like pastries." Everyone was a little frustrated with me about that. And I started to work on Últimas tardes con Teresa.
*
From Últimas tardes con Teresa
(Last Evenings with Teresa)
[A Novel]
The flash of some terrible reality leaping, as its way is,
out of the heart of spring. Because youth . . .
—Virginia Woolf
Years later, looking back on that passionate summer, both of them would recall not only the suggestive light that fell on every event, its variety of golden reflections and false promises, its illusions of a free future, but also the fact that, in the middle of their mutual attraction, even in the heat of their summer kisses, there were shadows where the cold of winter was already nesting, the fog that would eclipse the mirage.
—Are you honest with me, Manolo? Sometimes I'm scared . . .
—I don't know. Is this real, what's happening to us?
The internal erosion of the myth took place without weakening Teresa's growing love for the boy from the south. His true character was revealed to her precisely (and it took only three nights) when she realized she hadn't been seduced by an idea, but by a man. First came a feeling of disorientation, a need to reevaluate certain notions about the strange world in which we live, when she made some unexpected connections, the scandalous way illusion wrapped itself around reality.
On a Sunday afternoon of sun and sudden showers, it was the end of August, Teresa insisted they go into a popular dance club in Guinardó. They had taken refuge from the rain in a bar across the street from Salón Ritmo, where a crowd of boys and girls, who arrived running through the rain, were waiting to go in. Manolo mentioned that years ago that place had been his favorite dance club. "Why don't we go in?" she said, her eyes lighting up. "You won't like it, that place is full of degenerates," Manolo said. But she insisted ("Rain and no car, what else can we do?") and he had no choice but to indulge her whim. Right then the rain was coming down in torrents. Manolo took off his jacket and used it to protect the girl as they crossed the street. Teresa leaned against him and smiled. At the ticket window a fat, pink man was smoking Ideales and Teresa tried to bum one. "Don't be rude," joked Manolo. "Oh be quiet, hombre. This will be fun, you'll see." Boys: 25 pesatas, Girls: 15. "Discrimination," said the happy university girl. One drink included in the cover. Performing: Orquesta Satélites Verdes, their singer Cabot Kim (Joaquín Cabot), Maymó Brothers (Afro-Cuban rhythms), Lucieta Kañá (young Catalan cuplé performer) and some other big names from that era. "This is going to be great," said Teresa. From the beginning she showed an odd excitement. Exclusive, special appearance by Trio Moreneta Boys (the lovely sounds of sardana fused with modern rock). "Spectacular," said Teresa as they went in, "I can't wait." The place was packed and loud, no room to move on the dance floor. Men dressed to the nines, with sardonic eyes and impertinent expressions roved around in tight packs, harassing girls, leaning over them, scrutinizing their necklines and whispering come-ons. Almost all of them were Andalusians. The fiery looks Teresa received were more than suggestive. Manolo's constant presence at her side saved her from an advance that, if she were alone, would have moved beyond simple admiration. Fortunately, on that day she was dressed plain enough for church (white pleated skirt, blue blouse with a high neck, and a wide black belt), which, in that milieu, might have made her the subject of mockery if it hadn't been for her long, blonde hair and lustrous, sun-flattered skin, two charms that betrayed her, that is of course if she wanted to pass unnoticed. There were stationary groups of girls in the galleries and in chairs lined up around the dance floor, whispering among themselves every now and then. At the far end, on a small stage were the Satélites Verdes dressed in sequin shirts, their singer (unusually melodic, according to popular opinion) with a thin, black mustache and a nasal, Gregorian voice. Previously, the place had belonged to an old cultural and recreational workers society (Home of the Weavers Guild), which, along with their Choir, their Library, and their Theater—now converted into Salón Ritmo—had disappeared along with the Republic. Outdated and solemn decoration: four walls with plaster crown molding embossed with bouquets of flowers, bunches of grapes, and coats of arms—a face within, an illustrious name below (Prat de la Riba, Pompeu Fabra, Clavé). Glorious Catalans, leaders of orfeó i caramelles, the long lost labor movement, whose severe profiles seemed to express scorn for the Sunday invasion of illiterate Andalusians. In the first floor gallery, through the rancid odor of the wooden box seats, wandered the ghost of a familiar, artisan spirit that reigned in the past and that today occupied one remaining refuge: the stockroom for beverages and artifacts. It had been a library and billiard room, now it housed the mutilated and still quivering remains of Catalan translations of Dostoevsky and Proust alongside Salgari, Dickens, the Patufet, and Maragall, and rusted trophies and old Home of the Weavers standards sleeping alongside the dream of oblivion.
(Translated by Will Vanderhyden)