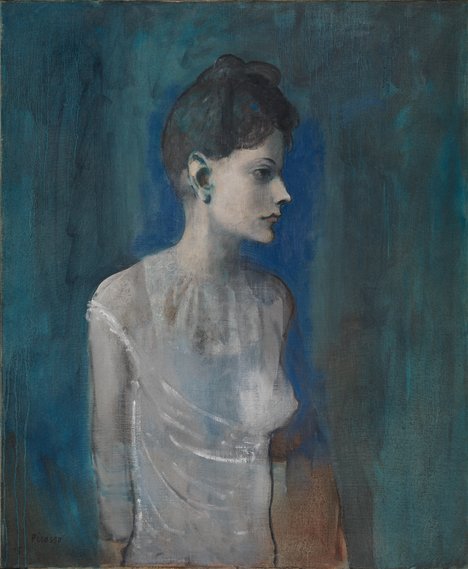 © Succession Picasso/DACS, London 2017
Girl in a Chemise c.1905 by Pablo Picasso
Annette King
,
Joyce H. Townsend
and
Bronwyn Ormsby
Tate Papers No 28
Picasso transformed an earlier painting of a boy to create this profile of a slender young woman. This paper uses X-radiography and infrared imaging to look beneath the surface of the painting and unravel the way in which Picasso transformed the male figure into a female figure with a few deft brushstrokes. The contemporary Parisian context and the identity of the sitter are discussed, as well as the skill and delicacy of Picasso's early painting techniques
A new face in his work reveals that Picasso had found a new mistress. Madeleine she was called; all we know is that she was a model … she was pretty in a delicate, bird-like way (her nose and forehead formed a straight line). Madeleine's thick hair, loosely drawn back into a chignon, and her boyishly lean body recurs in a number of works done over the next six to nine months – works that mirror the blurring of the Blue into the Rose period.7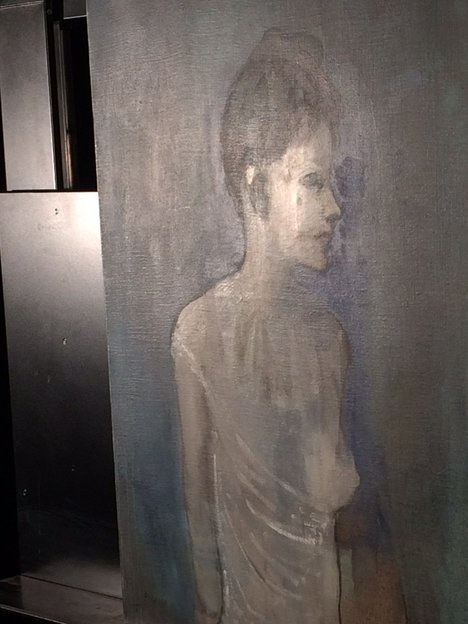 Photo © Tate

The earlier painting
The transformation from boy to girl
Conclusion
Acknowledgements
Grateful thanks to the Clothworkers' Foundation who generously supported the two-year technical study of Picasso, Picabia and Ernst at Tate during 2014–16. The digital X-ray equipment was acquired by Tate during the project with the generous support of the R. and S. Cohen Foundation. Huge thanks go to Dr John Delaney and Dr Kate Dooley of the National Gallery of Art, Washington, D.C., for coming to London and bringing
SWIR
imaging, pXRF and
FORS
equipment in 2013, and applying these to
Girl in a Chemise
, and to Julie Barten of the Solomon R. Guggenheim Museum, New York, for her role in this study and for sharing research on
Woman Ironing
1904. Thanks also to Ann Hoenigswald and Jennifer Hickey at the National Gallery of Art, Washington,
D.C.
for generously sharing their research on
Lady with a Fan
1905 by Picasso. Many thanks to Reyes Jiménez-Garnica of the Museu Picasso, Barcelona, for generously sharing her research and her interpretation of the X-radiograph. Thanks to Tate Photography and in particular Marcella Leith, Mark Heathcote, Rod Tidnam, Joe Humphries, Jo Fernandes, Lucy Dawkins and Rose Hillson-Summers who have taken such beautiful and instructive images and X-radiographs, and processed the images. Thanks also to the art handling team and registrars at Tate for frequent art movements and continued access to the painting. Thanks to former Tate Conservation Science intern Nelly von Aderkas for her contribution to the analysis of this painting. The high-resolution micrographs were taken using a Hirox
KH
-8700 digital microscope, the purchase of which was supported in part by the Nanorestart research project funded by Horizon2020; others were taken by Emilien Leonhardt and Dr Jaap Boon in 2013 when they kindly brought a similar microscope to Tate for use on another artwork. Dr Marilyn McCully generously shared her knowledge of this painting, and commented on the text.
Annette King is a Paintings Conservator at Tate
Joyce H. Townsend is Senior Conservation Scientist at Tate
Bronwyn Ormbsy is Principal Conservation Scientist at Tate
Tate Papers, Autumn 2017 © Tate
How to cite
Annette King
,
Joyce H. Townsend
and
Bronwyn Ormsby
,
'Girl in a Chemise c.1905 by Pablo Picasso',
Tate Papers
, no.28, Autumn 2017, https://www.tate.org.uk/research/publications/tate-papers/28/picasso-girl-chemise, accessed 2 September 2018.
Tate Papers (ISSN 1753-9854) is a peer-reviewed research journal that publishes articles on British and modern international art, and on museum practice today.
TATE