Winifred Watson
Novelist who, like her heroines, had a second chance
Henrietta Twycross-Martin
Wed 14 Aug 2002 17.35 BST
Winifred Watson, who has died at the age of 95, wrote six well-reviewed novels in the 1930s and early 1940s, and was then forgotten until she came to renewed fame 18 months ago with the republication of Miss Pettigrew Lives For A Day, a comic fantasy about a middle-aged governess unexpectedly encountering - and approving of - the louche London world of nightclubs, cocktails and casual sex.
All her books were women's novels, showing women having second chances, moving on and changing creatively - much as she herself changed from genre to genre. She was interested in the development and resolution of sexual, family and class tensions in ways that might flout convention or the law, but allowed women to survive and flourish. In this, she anticipated the work of a later, and better-known, Newcastle author, Catherine Cookson.
Winifred Watson lived almost all her life in Jesmond, a middle-class suburb of Newcastle-upon-Tyne. With her two older sisters and twin brothers, she came from a comfortable background; her father owned four shops in Gateshead and Newcastle catering for working-class people, an ambiance that helps to explain the interest in class and sympathy for the poor that inform her novels.
After education, with her sisters, at St Ronan's boarding school, Berwick-on-Tweed, Winifred went to commercial college, before starting work as a typist in Newcastle. By her own account, there was so little to do that she had time to try her hand at writing the kind of fiction she enjoyed reading.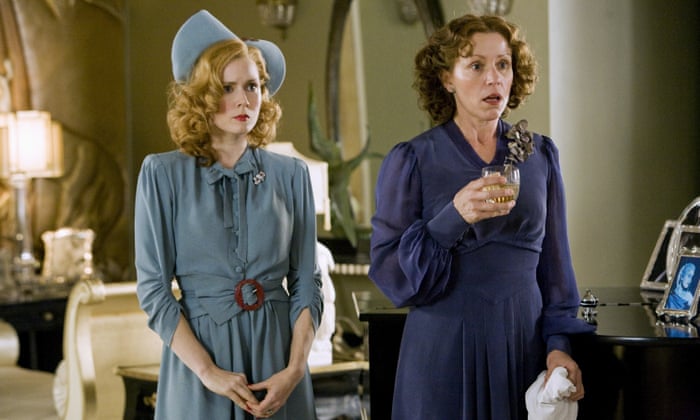 Amy Adams and Frances McDormand
Her first book was Fell-Top (1934), a steamy, rustic novel in the Precious Bane mould, about a sexually sadistic marriage as a result of which murder is committed and condoned, even by the vicar's daughter. This story, which was successful enough to be adapted for radio, was followed by Odd Shoes (1936), a historical novel with a similarly racy plot, set in 19th-century Newcastle.
Winifred then wrote Miss Pettigrew Lives For A Day (1938), but Methuen, her publishers, were unnerved by the subject matter and only agreed to bring it out on condition that she wrote another rustic bodice-ripper: she obliged with Upyonder (1938), but said to me later that she always knew Miss Pettigrew was a winner - and had told Methuen so at the time. Mary Thomson's delightful black and white drawings, which illustrate the book, captured exactly the lightness of the comedy, and the elegance of the settings and fashions. Gratifyingly, sales proved Winifred right; an American edition and a French translation followed, though the film rights Hollywood had purchased were never exploited because war intervened.
Then came Hop, Step And Jump (1939), another variant on the Cinderella theme, in which a young, working-class woman abandons her husband, becomes a kept woman to better herself, and finally marries a lower-middle-class man, the upper-middle-class ex-lover having, meanwhile, arranged her divorce and taken on the ex-husband as a chauffeur. Winifred's last novel, Leave And Bequeath (1943), marked another change of direction, being part murder-mystery and part psychological study.
But then disaster stuck. By now happily married, and with a small son, Keith, Winifred was bombed out of her home, and had to move into cramped conditions in her mother-in-law's house, where she found it impossible to write. "One cannot write," she said to me, "if one is never alone."
And that was that. Once she had found her own home again, she put writing behind her, and dedicated herself to bringing up Keith and helping her husband, Leslie Pickering, in his timber business. It was not until November 2000, when Persephone Books reprinted the charmingly witty Miss Pettigrew - to unexpected acclaim - that both book and author were rediscovered.
When I went to interview Winifred about the reprint, the door was opened by a diminutive figure in a neat red dress, who apologised for not offering coffee, settled me by the fire and beamed. I registered very bright eyes and very high cheekbones. She had intelligence and determination, while maintaining that there was nothing interesting about her at all.
At the end of my visit, she produced a scrapbook full of newspaper cuttings and a beautiful young woman feted at literary lunches, for one of which EV Rieu, founding editor of Penguin Classics, came north especially to praise her work. Sixty years on, newspaper reviewers felt the same, and Miss Pettigrew sold 1,500 copies in three months.
Winifred is survived by her son.
· Winifred Eileen Watson, writer, born October 20 1906; died August 5 2002