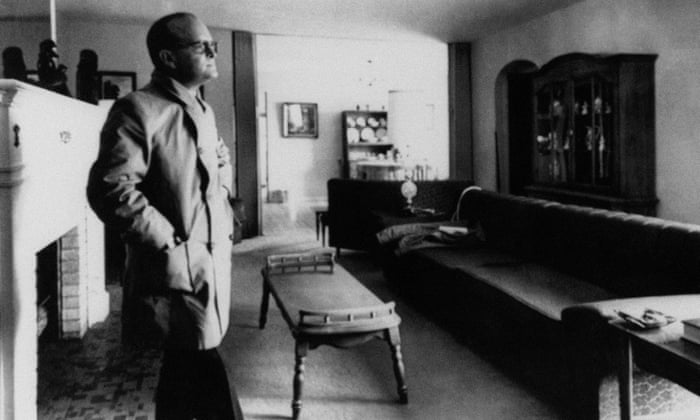 Truman Capote at the ranch, in 1967,
where four members of the Clutter family were murdered in 1959
Truman Capote's
In Cold Blood at 50
Capote's literary masterpiece about a real killing spree in a small Kansas community paved the way for the non-fiction novel and remains a tense and unsettling read

Rupert Thomson
Saturday 16 January 2016 11.00 GMT
hough Truman Capote did not, as he liked to claim, invent the non-fiction novel, In Cold Blood (published 50 years ago this week) remains a literary monument. If we look back, we can see its influence everywhere – in Norman Mailer's The Executioner's Song, in Tim O'Brien's Vietnam classic The Things They Carried and even in more recent novels such as Quiet Dell, in which Jayne Anne Phillips builds a narrative around the crimes and trial of a 1930s serial killer.
Capote's early works were carefully wrought, slightly precious versions of swamp gothic, but his groundbreaking 1957 profile of Marlon Brando, "The Duke in his Domain", testified to his desire "to do something else". Inspiration came from an innocuous New York Times article reporting the murder of the Clutter family in Holcomb, Kansas. Capote's initial idea was to examine the effects of a savage, senseless killing on a small community in the middle of nowhere, but the swift arrest of Richard Hickock and Perry Smith changed everything. In researching Smith's backstory, Capote found disturbing echoes of his own past. Though he prized coolness and objectivity, he could not help but reveal where his sympathies lay. The feckless killer, Smith, became the emotional linchpin of the book, walking an almost supernatural line between fiction and non-fiction, even though he was real. Tellingly, it was Smith's cold-blooded execution, and not the Clutters' murder, that gave the book its title.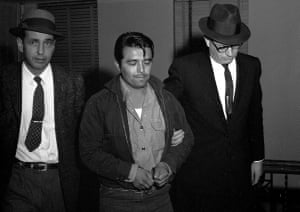 Perry Smith is led by police officers into the courthouse in 1960.
Photograph: William Straeter/
That

In Cold Blood

has literary merit is not in doubt – 50 years on, it is a surprisingly tense, sinewy and unsettling read – but what makes it unforgettable is the way it captures the spooky, unspoken contract between the observer and the observed. Despite Capote's identification with Smith and Hickock, there came a point when he realised that he needed them to be executed. It was

William Faulkner

who identified the essential amorality of the writer when he said that he would "rob his mother" to get his work done, but praying that two men – even two guilty men – will hang so you can complete your masterpiece is not a position in which any writer – fiction or non-fiction – wants to find themself.
THE GUARDIAN