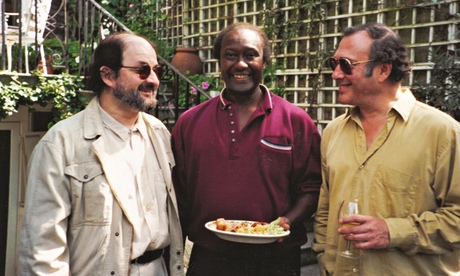 Harold Pinter, my late husband, admired Salman Rushdie's work enormously, long before he met him. He thought
Midnight's Children
was a wonderful book (although his favourite was
The Satanic Verses
, which he read, incidentally, long before the troubles). We first met Salman in February 1982, at a protest outside the Polish embassy mounted by PEN in favour of Solidarity. Afterwards, we all went to the pub and a real friendship grew, which was very important to Harold.
Shortly after the fatwa was issued in 1989, Harold was honoured when Salman asked him to deliver a lecture on his behalf at the ICA, because, of course, Salman couldn't do it. It was an extremely tense occasion with masses of police, television and so on. When Harold had finished, a member of staff at the ICA drew Harold aside and took him to a call box where an undisclosed number was dialled and he spoke to Salman. He was characteristically jolly under the circumstances and said: "I know Harold, next time you write the lecture and I'll deliver it." Which Harold thought was terrifically cool.
Every summer, Harold would bring his cricket team, the Gaeities, for a match against the Guardian at Gunnersbury. We used to have a buffet lunch in our garden beforehand to encourage the team (see my photograph). Salman asked if he could come. And of course he brought two members of Special Branch with him. Later, the Guardian was short of a player, and Salman fielded for them. The ball, in its devilish way, sought him out, and every time he rose up to catch it, I saw the Special Branch duo rise to their feet as though he were under threat. Loyally, I remember Harold's team won, but I may be wrong.
This award would have meant a great deal to Harold because he respected Salman twice over: first for his work, and then for his great personal courage.