Louise Bourgeois by Robert Mapplethorpe
My hero: Louise Bourgeois
by Tracey Emin
There isn't a museum in the world that isn't trying to get their hands on her work, yet Louise Bourgeois hasn't become a mainstream artist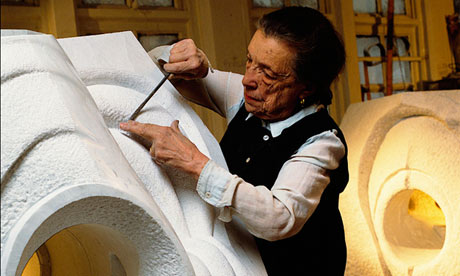 I first heard about Louise Bourgeois in 1995 when she was shown at the Tate. The curator, Stuart Morgan, always used to say to me that I'd like his friend who lived in New York, and the way he talked about her and her art made me think she was someone of my age. So I was quite shocked when I found out she was in her 80s. I was already making work about personal experiences, but Louise was doing it on a different level and, while her work appears to be very emotional, it is also highly intellectual. Even though she was passionate and romantic, she was also very academic and could have been anything – a scientist, a mathematician – but she chose to do art.
I met her towards the end of her life and we collaborated. She was formidable and I was quite in awe of her presence, her stamina and her attitude. But we got on really well, and it felt empowering just to know someone like that. In Manchester, I am taking part in the 20th anniversary of the critic
Hans Ulrich Obrist
's "Do it" project in which artists respond to the instructions of artists from an earlier generation. My partner is Louise and I'll be responding to her idea that people should just go out on the street and "smile at a stranger". In response, I've written a poem that will be given to people to take away with them.
Although today there is not a museum in the world that isn't trying to get their hands on her work, Louise hasn't become a mainstream artist. She is still out there in her own orbit. When we collaborated I was obviously interested in the work we were doing, but I had no idea of what she was actually giving me. The repercussions – in terms of people met and friendships made – changed my life, which is something you don't expect when you meet someone. It has been a really lovely thing.