Vanished Years by Rupert Everett – review
The actor haphazardly paints a detailed picture of our times as he meanders through the world of showbiz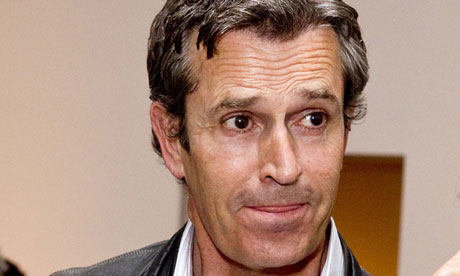 This second volume of autobiography from
Rupert Everett
charts the actor's meandering path through the often vapid world of showbiz, deploying a largely detached tone; yet somehow reading it is akin to being held in the vice-like grip of a demon. Everett's perspective is so engaging and his descriptive powers so arresting that his words become about more than his own experience. By the end, he has haphazardly painted a detailed picture of our times – as he may well have sneakily intended to do.
Like that other naughty diarist Alan Clark, Everett's intentions are not clear, although his distaste for himself is beguilingly evident. We see him flunk friendships, charity stunts, TV deals and romantic obligations, and all the while something he dubs his "special needs charm" keeps the narrative thread motoring along. There is no hint of regimented structure and the book veers anarchically from short story to anecdote to memoir.
It does not matter, though, with an author who is able to offer so many fresh and unexpected episodes; like a Channel ferry voyage he takes with his ailing father at the beginning of a trip to Lourdes, or the sun-kissed months he spent living with a changing cast of young friends in a caravan in the south of France. Everett confesses to borrowing trinkets compulsively during a "magpie" phase and his comic writing also glitters with stylistic gems swiped from his heroes – Wilde, Waugh, Greene, Mitford and Coward – but the actor also has his own, committed way of seeing around the conventional expectations of a scene.
Some of his best descriptive passages are saved for a portrait of Isabella Blow, the late society designer, who is now a ghost in Everett's mind "like the image that an electric light bulb – too closely scrutinised – brands across the optic nerve". Blow's giddy transgressions and descent into madness are painfully rendered, from the time she flounced out of a Dulux consultancy deal during a freebie abroad, leaving him "to deal with the lemon-lipped ladies of paint", to a bleak visit to her London asylum.
Everett's grim outlook comes across most directly when he looks at a photograph of his dying father holding a newborn baby. He admits there is wonder in the contrast of two unknowing beings at either end of life, yet he feels "the thought of the long hard slog, getting from one end to the other, is shattering when you're in the middle".