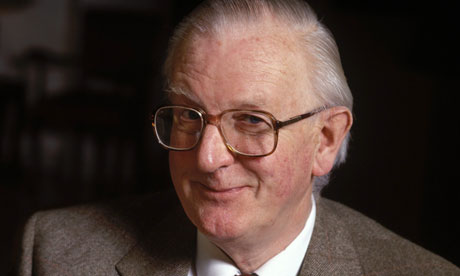 Tom Sharpe loved his family, but found that, to write, he had to fly solo.
Photograph: Louis Monier/Gamma-Rapho via Getty Images
Tom Sharpe: a relentless writer
In his last years, the Wilt novelist continued to mix a roving imagination with the precision of farce
by Peter Preston / The Guardian / 6 June 2013
For around a decade at the end of his life and bedevilled by illness, Tom Sharpe lived alone in a quiet cul-de-sac in Llafranc, Catalonia, tended devotedly by a Catalan doctor (whom he taught, from scratch, to speak the most fluent English). He looked forward to visits from Nancy and his daughters – and his brother who lived in Australia. But for the most part, he worked relentlessly, a writer – as he would often say – in search of the inspiration that had made writing so easy in earlier days.
It was a struggle as – reaching for another Cuban cigar – he moved anxiously between computer keyboards, a favourite old typewriter and longhand scrawl, struggling to mix a roving imagination with the precision of farce, but driving himself to produce Wilt in Nowhere (2004) and The Wilt Inheritance (2010), as well as The Gropes (2009), and enjoying the renewed success that came with them. He was loved in Catalonia, his works often translated into Catalan. He was a great local character, recognised and revered for, among other things, not speaking a word of the language. His photographs from South Africa and Cambridge were exhibited in Barcelona.
Tom never forgot, or quite broke free, from his roots. His father's influence – and politics – were a constant, conflicted, almost obsessional memory. He could remember every detail of his life in a South African prison. He told wonderful stories of life with Nancy in the deep south of America and drank malt whisky (on alleged prescription) in wonderfully copious quantities. He loved his family, but found that, to write, he had to fly solo. I saw him last only a few weeks ago, recovering from a stroke and starting to re-read his own books as therapy. He was still funny, still irascible, still interested in everything – including the fate of the coalition. It was a life drawn in bold colours and lived vibrantly to the end.
Read also
BIOGRAPHY OF TOM SHARPE