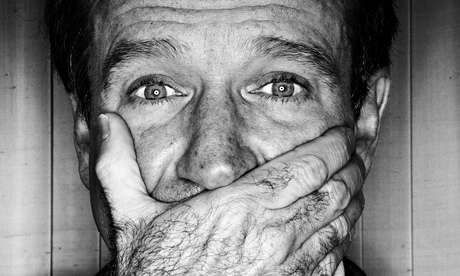 1981. 4am, Brixton. Peter Richardson and I have heard that there's supposed to be a party at an address in Brixton, so we've gone down there after the gig at the Comedy Store. We have this squirty American guy with us, who's just played a blinding set at the store and looks a bit lost, so we invited him along.
When we get there, we don't have to ring on the bell, the door is hanging wide open. There are two people asleep on their feet – leaning on each other – dancing to the repetitive scratch from the long-finished vinyl on the mono record-player. On the floor are a couple of sleeping junkies. There's no booze left and ashtrays are full of butts. This is one dodgy party, like something Super Hans from Peep Show might have left three hours ago.
The American guy hangs back at the front door, reluctant to get involved. Oh well – I offer to drive him to his digs, wherever they are, expecting perhaps Islington or Shepherd's Bush, but we end up going all the way back into town. He's staying at the Park Lane hotel. Who is this guy? In those pre-Google days, it took us a week or so to find out that he was Mork from a TV show we'd never heard of, and was – well, basically – an international comedy star.
In those early right-on days of the Comedy Store there were a couple of principles that comics were supposed to adhere to: "non-sexist, non-racist" comedy. Alternative comedy, that was the name of the game. But there was also another, unspoken tenet, which was "non-American". There was a lot of prejudice and snobbishness among comics about the American way of doing stuff, which was ironic considering that the whole concept of a Comedy Store was an import from the US. Just as punk had rejected the large-scale, smooth, hairy music of the 70s, we were supposed to scorn the Americans for their slick, wise-cracking humour, and get on with being plain old British stupid. Ironic, too, that most comics then, as now, would have sold their children to make it in the States.
So when Robin Williams was first announced on the Comedy Store stage, his appearance was greeted with British elitist indifference. However, an hour and 10 minutes later, the game plan had changed. Most people's sets would be 10 minutes, 20 minutes max. There was a gong, so if the audience shouted for it loud enough, the compere would come on, beat the gong, and the act would leave the stage, humbled.
What happened that night was unprecedented. Russell Brand recently described Williams's live act as being as if he was sitting on a geyser of comedy, which he would un-valve to let some out, rather than being thought up or invented by the man himself. I think this is pretty accurate; a stream of a thousand different voices, people and surreal concepts, all arguing in his head. It was breathtaking, literally, because when you laugh that much there is no time to draw in air. Williams was cleverer, faster and madder than his audience.
When, a year or so later, we started the
Comic Strip club
, down the road from the Comedy Store in Walker's Court, we invited Robin to come back and use London to try out new material. I think he found it refreshing to be able to play a small venue without the pressure of his fame – which was only just beginning to grow in England – and the expectation that always accompanies it. He came a couple of times and, of course, did not respect the time slots or running orders. But we were happy for that because watching him from the side was inspirational, and the audiences couldn't believe what they were getting. He would leap in among them and, for instance, grab and start to go through a woman's hand bag – perhaps an old trick now – but then it was shocking and exciting. He would pull the items out and make them into puppets which had conversations with each other, with no regard for the feelings of the owner of the bag. He was not one of those "I'm only kidding, I love you all really" type of comics. He really took it close to the unacceptable. It was wonderful.
The only trouble was, he couldn't stop doing it. Backstage, in the dressing rooms, on the stairs, the stream of consciousness continued. The jabbering multitude of voices, the need to make everyone around him laugh, all the time. He wouldn't be happy until the furniture was laughing. He had a bad case of what we in the business call "Comic's Disease". This is such a gift to the rest of the world but, as we saw last week, it can be a heavy load to bear.
I suppose everyone has a different way of dealing with their demons, and we have to be thankful that Robin Williams's way brought so much pleasure to so many people. It's been a bad year for the gods taking away funny people. Mel Smith, Roger Lloyd-Pack, Sam Kelly, our very own Rik. It's been so bad, in fact, that now, when I see a photo of a funny person come up on telly or in the news, my first reaction is to think, "Oh no, not him/her too." What's going on?
We'll never know the exact reason for Robin Williams's decision last week. Perhaps it was money troubles? Perhaps the divorces? Perhaps the addictions? Was he on antidepressants – which sometimes have the paradoxical side-effect of inducing suicidal thoughts?
Heartfelt condolences to all the family and kids he left behind.