Oscar Wilde by Michael Holroyd

The Guardian, Saturday 5 September 2009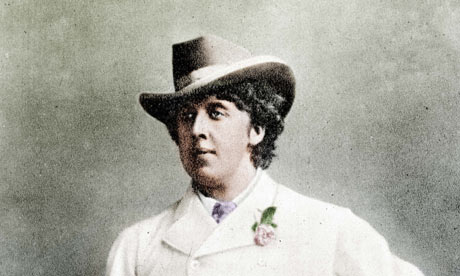 Hand-coloured photograph of Wilde circa 1890. Photograph: Roger Viollet
I first came to Oscar Wilde through reading his Life by Hesketh Pearson. This enthralling biography was first published in 1946, and I read it a few years later when I was in my early teens. It was less the tragedy of Wilde's last years that gripped me than the wit and humanity of the man, his generosity of spirit and radical ideas.
I lived most of my early years with my grandparents. The atmosphere was one of eccentric conventionality. Wilde's startling paradoxes ("Work is the curse of the drinking classes") turned upside down the unthinking clichés I used to hear. The man who claimed that "a map of the world that does not include Utopia is not worth even glancing at" changed my view of the world. Wilde made me laugh, made me think and revealed to me the seriousness of imaginative humour.
What I came to value was the charming way he arrived at deeply unpopular opinions. He upset much of what I had been encouraged to take for granted. I found myself warming to his revolutionary assault on the dictatorship of a political democracy which depended on that "monstrous and ignorant thing called Public Opinion". He was an extraordinarily brave writer. "One is absolutely sickened," he wrote in The Soul of Man Under Socialism, "not by the crimes that the wicked have committed, but by the punishments that the good have inflicted." I think of that whenever I hear the phrase "brought to justice" glibly used in the media.
Wilde's epigrams and ideas float through all his work – his plays, fiction and essays. "Every great man has his disciples and it is always Judas who writes the biography," he said. And perhaps that was no bad thing while a Damocles sword of respectability hung, as Carlyle complained, over the poor English life-writer. Perhaps, too, Wilde had a more lasting influence on me than I realised. "To arrive at what one really believes," he wrote in The Critic as Artist, "one must speak through lips different from one's own." This is no less true for a biographer than for a playwright.
THE GUARDIAN
100 My hero / Thomas Tranströmer by Robin Robertson

101 My hero / Maureen Kelman by Stephen Kelman
102

My hero / David Hockney by Susan Hill


103 My hero / KM Peyton by Meg Rosoff
104 My hero / Ernest Shaskleton by Anthony Horowitz
105 My hero / Alan Turing by Alan Garner
106 My hero / Audre Lorde by Jackie Kay
107 My hero / WG Hoskins by Penelope Lively
108 My hero / Primo Levi by Siddartha Mukherjee
109 My hero / Christopher Logue by Craig Raine
110 My hero / Russell Hoban by Will Self
111

My hero / Arnold Lobell by Julia Donaldson

(23 December)
112 My hero / Peter Scott by Louisa Yong (30 December)

2012 (PAGE 9)
113 My hero / Ronald Searle by Quentin Blake (6 January)
114 My hero / Patrick Hamilton by Eoin Colfer (13 February)
115 My hero / Evariste Galois by Andrew Miller (20 January)
115

My hero / Nadime Gordimer by Tessa Hadley

(27 January)
117 My hero / Charles Dickens by Simon Callow (4 February)
118 My hero / Jarvis Cooker by Jon McGregor (10 February)
119 My hero / Michael Ondaatje by Teju Cole (17 February)
121 My hero / Thomas Paine by Sue Townsend (2 March)
122 My hero / Raphael Lemkin by AL Kennedy (9 March)
123 My hero / Armistead Maupin by Patrick Gale (16 March)
124 My hero / Stephen Haff by Peter Carey (23 March)
125 My hero / Sigmund Freud by John Gray (30 March)
126 My hero / Adrienne Rich by Ensler (6 April)
127 My hero / John Keats by Andrew Motin (Kiss) (13 April)
128 My hero / George Eliot by Cynthia Ozick (20 April)
129

My hero / Walter Benjamin by Elif Shafak

(27 April)
130 My hero / Edward St Aubyn by Ann Patchett (8 May)

131

My hero / Maurice Sendak by Neil Gaiman

(11 May)
132 My hero / Carlos Fuentes by Alberto Manguel and Liz Calder (18 May)
(PAGE 8)

133 My hero / Dag Hammarskjöld by Timothy Mo (25 May)
134

My hero / Homer by Madeline Miller

(1 June)
135 My hero / Robert Louis Stevenson by Ian Rankin (8 June)
136 My hero / Yannis Ritsos by David Harsent (15 June)
137 My hero / Thomas Merton by Nicole Barker (22 June)
138 My hero / Nora Ephron by Elaine Showalter (29 June)
139 My hero / Mandy Colleran by Jake Arnott (6 July)
140 My hero / Janice Gallowayn on Kenneth Hetherington (13 July)


141 My hero / Natayantara Sahgal by Hari Kunzru (20 July)
142 My hero / Usain Bolt by Ian Thomson (27 July)
143 My hero / Maeve Binchy by Marian Keyes (3 August)
144 My hero / Charlie Kaufman by Ned Beauman (17 August)
145 My hero / Paula Rego by Marina Warner (24 August)
146

My hero / Roald Dahl by Michael Rosen

(31 August)
147 My hero / Joyce Carol Oates by Rose Tremain (7 September)
148 My hero / Saki by Naomi Alderman (14 September)
149 My hero / Lee Miller by Deborah Levy (21 September)
150 My hero / Nicholas Mosley on Fr Raymond Raynes (28 September)

151 My hero / Kurt Voneggut by Alison Moore (5 October)
152 My hero / Mo Yan by Howard Goldblatt (12 October)
(PAGE 7)
153 My hero / Patrick Leig Fermor by Artemis Cooper (19 October)
154 My hero / Thomas Stamford Raffles by Victoria Glendinning (26 October)
155 My hero / Dorothy Hartley by Lucy Worsley (2 November)
156

My hero / Barack Obama by Lorrie Moore

(8 November)
157 My hero / Beryl Markham by Maggie Shipstead (16 November)
158 My hero / Charles Howard Bury by Wade Davis (23 November)
159 My hero / Larry Levis by Kevin Powers (30 November)
160

My hero / Charles Baudelaire by Roberto Calasso

(7 December)

161 My hero / Ravi Shankar by Amit Chaudhuri (12 December)


2013
162 My hero / Dennis O'Driscoll by Seamus Heaney (3 January)
163 My hero / My hero: Caitlin Moran by Annabel Pitcher (11 January)
164 My hero / My hero: George Orwell by Margaret Atwood (18 January)
165 My hero / Robert Burns by Liz Lockhead (25 January)
166 My hero / William Cowper by Alexandra Harris (1 February)


170 My hero / Betty Friedan by Lionel Shriver (1 March)
171 William Cobbett by Richard Ingrams (8 March)
172 Noam Chomsky by Charles Glass (15 March)
193 My hero / Gordon Burn by David Peace (7 September)


194

My hero / René Descartes by James Kelman (13 September)
195 My hero: Wilkie Collins by Andrew Lycett (21 September)
196 My hero: Kofi Awoonor by Nii Parkes (28 September)
197 My hero Fanny Trollope by Lucy Ellmann (5 October)
198 My hero / Asterix by Tom Holland (25 October)


199

My hero / Albert Camus by Geoff Dyer (1 November)
200 My hero: Giacomo Matteotti by Lucy Hughes-Hallett (8 November)