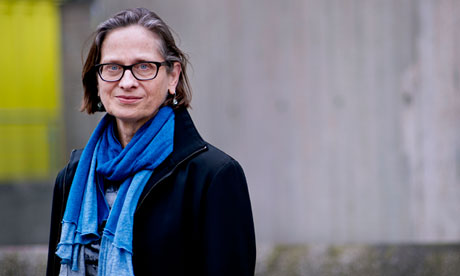 Winner of the 2013 Man Booker International prize. Photograph: Sarah Lee for the Guardian
My hero: Lydia Davis by Ali Smith
As mighty as Kafka, as subtle as Flaubert, as epoch-making as Proust – Davis's short stories are a celebration of the fertile mind
Big rejoicing: Lydia Davis has won the Man Booker International prize. Never did a book award deliver such a true match-winning punch, rather like one of Davis's ingenious, playful, formally inventive and unexpectedly powerful (for their size)
short stories
might. Best of all, a new audience will read her now and find her wit, her vigour and rigour, her funniness, her thoughtfulness, and the precision of form, which, even among short-story practitioners known for these qualities, mark Davis out as unique.
In the UK at least, until the 2010 publication of her Collected Stories (Penguin), it was quite hard to track down copies of her four collections:Break It Down (1986), Almost No Memory (1997), Samuel Johnson Is Indignant (2001) and Varieties of Disturbance (2007), though a couple of these and a lone novel, The End of the Story (1995), were published in the 90s by Serpent's Tail. She was hard to find, but held in such regard among those who read her that from the beginning she had the reputation of being a writer's writer.
But she's such a reader's writer, this daring, excitingly intelligent and often wildly comic writer who reminds you, in a world that likes to bandy its words about, what words such as economy, precision and originality really mean. It's all about how you read and about the reflorescence of what and how things mean with Davis, who works in an understated, concentrated way and in a form that usually slips under the mainstream radar. So look again, because this is a writer as mighty as
Kafka
, as subtle as
Flaubert
and as epoch-making, in her own way, as
Proust
. As a translator, she has recently produced magnificent English versions of classics by the latter two, but it's the short-story form that she's made her own, and even changed the potential of, over three decades of honing a style whose discipline is a perfect means of release of hilarity, myth, merciless sharpness, and, most of all, of a celebration of the thinking, vital, fertile mind.
A two-liner from Davis, or a seemingly throwaway paragraph, will haunt.
What looks like a game will open to deep seriousness; what looks like philosophy will reveal playfulness, tragicomedy, ordinariness; what looks like ordinariness will ask you to look again at Davis's writing. In its acuteness, it always asks attentiveness, and it repays this by opening up to its reader like possibility, or like a bush covered in flowerheads.
She's a joy. There's no writer quite like her.
She is also taller than Virginia Woolf.
I love her minimism. It takes talent, real talent, to say so much in so few words.
Man Booker International prize goes to (very) short-story writer Lydia Davis
Stories by much-acclaimed American writer, some just a sentence long, praised for vigilance 'down to the very word'
l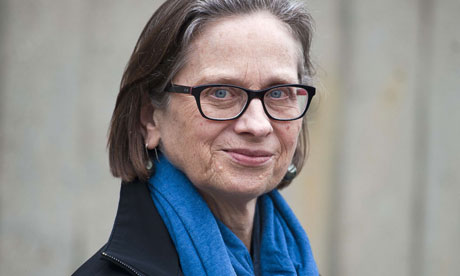 The impossible-to-categorise Lydia Davis, known for the shortest of short stories, has won the Man Booker International prize ahead of fellow American Marilynne Robinson and eight other contenders from around the world.
The £60,000 award is for a body of work, and is intended to celebrate "achievement in fiction on the world stage". Cited as "innovative and influential", Davis becomes the biennial prize's third successive winner from North America, after fellow American Philip Roth won in 2011 –prompting a controversial walk-out from the judge Carmen Callil, partly over her disappointment in the panel's failure to choose a writer in translation – and Canadian short story writer Alice Munro took the prize in 2009.
Best known for her short stories, most of which are less than three pages long, and some of which run to just a paragraph or a sentence, Davis has been described as "the master of a literary form largely of her own invention". "Idea for a Short Documentary Film" runs as follows: "Representatives of different food product manufacturers try to open their own packaging." In "A Double Negative", she writes merely that: "At a certain point in her life, she realises it is not so much that she wants to have a child as that she does not want not to have a child, or not to have had a child."
Chair of this year's Man Booker International judges Christopher Ricks said that the American author's writings "fling their lithe arms wide to embrace many a kind". "Just how to categorise them? Should we simply concur with the official title and dub them stories? Or perhaps miniatures? Anecdotes? Essays? Jokes? Parables? Fables? Texts? Aphorisms, or even apophthegms? Prayers, or perhaps wisdom literature? Or might we settle for observations?" asked Ricks.
"There is vigilance to her stories, and great imaginative attention. Vigilance as how to realise things down to the very word or syllable; vigilance as to everybody's impure motives and illusions of feeling."
Davis herself has said that she is happy to stick with "story" as a categorisation for her work. "When I first began writing seriously, I wrote short stories, and that was where I thought I was headed. Then the stories evolved and changed, but it would have become a bother to say every time, 'I guess what I have just written is a prose poem, or a meditation', and I would have felt very constrained by trying to label each individual work, so it was simply easier to call everything stories," she told the Observer in 2010.
And "even if the thing is only a line or two, there is always a little fragment of narrative in there, or the reader can turn away and imagine a larger narrative," she said.
Winner of a host of major American awards, Davis has been counted as an influence by writers including Jonathan Franzen, David Foster Wallace and Dave Eggers, the latter saying that she "blows the roof off of so many of our assumptions about what constitutes short fiction". She has published one novel and seven short story collections, and has also translated Proust and Flaubert.
As well as the US novelist Robinson, Davis beat a wide-ranging line-up of international authors to win the Man Booker International, from India's UR Ananthamurthy to Pakistan's Intizar Husain, China's Yan Lianke and Russia's Vladimir Sorokin. Since it was inaugurated in 2005, the MBI award has gone twice to an author writing in a language other than English – Albanian writer Ismail Kadare in 2005, and the late Nigerian author Chinua Achebe in 2007.
"It is a little disquieting in an international prize when it so rarely goes to a translated author, so we pondered a lot. There were lively discussions," said Ricks's fellow judge Tim Parks, the author and academic. "Frankly I thought all the shortlist was very good, and it wasn't easy to sort out who was going to win, [but] after long discussions we did feel about [Davis] that there was a creativity and an unusualness. We felt that about the others too, but there was simply more agreement there."
When judging a prize, said Parks, "you reach a point where all the authors you're reading are very good, and any business of saying one is better than another is silly, but you've got to choose a winner. And everyone felt that we were reading something we hadn't read before in any shape or form – that it really was sparkling and new and fresh, a new form for the short story, and that carried the day in the end."
Parks and Ricks were joined on the jury by the authors Elif Batuman, Aminatta Forna and Yiyun Li. "The problem is when you've got a jury, only one member of which's first language is not English [Li], the problem is it becomes much more difficult to develop a consensus around someone coming from a different culture," said Parks. "You can make what you will of that, and perhaps the only thing to do is to have a jury which is not all native English speakers."