David Walliams and Quentin Blake: how we made The Boy in the Dress
David Walliams, writer: 'I didn't want to start using the word transvestite in a book for eight-year-olds'
By Nancy Groves
The Guardian, Monday 7 july 2014
I was at school in Surrey when I first wore a dress. I was cast in a production of [the children's opera] All the King's Men – as Queen Henrietta – and I wore a wedding dress that my mum had found for me and a wig from the Girl Guides jumble sale. I was 11 or 12 and I remember getting lots of laughs. It was the first time I felt any kind of power.
The Boy in the Dress isn't autobiographical, but it does feel very personal. I didn't want to start using terms like transvestite in a book for eight- to 12-year-olds. I just wanted to tell the story of this one boy, Dennis, and the tension between him liking manly things like playing football and something quite different like reading Vogue. When you're writing for children, you have to remember what it was like to be a child and you do tend to put a lot of yourself into your lead character. Except the football – I was never any good at that.
When an idea is floating around in your head, you think it's perfect and finished. Of course, the work really comes when you start writing it. Me and Matt [Lucas] were making the American series of Little Britain at the time, so we were travelling a lot. I wrote on the plane – all those trips to Los Angeles and back with very little distraction. It probably went through at least 20 drafts.
I always wanted it to have illustrations, but getting Quentin Blake was a pipe dream. I was asked by my publisher who I'd like and I said his name, thinking: he'll never do it. Why would Quentin get involved with me, having worked with legends like Roald Dahl?
We met for the first time in the Wolsey, over breakfast, and he showed me the picture he'd done of Dennis for the front cover. He's looking at me asking: "What do you think?" It was perfect, of course, but who says no to Quentin Blake? It would be like telling Paul McCartney one of his songs was no good.
A number of celebrities had been giving writing a bad name with books they hadn't actually written. I didn't want people to think I was just another Katie Price. But Quentin choosing this book gave me real confidence – I felt like a writer. When I first saw a copy, my life felt complete. In sketches, you don't really get to flesh out the emotional lives of your characters. You might glimpse them at times – like with Lou and Andy in Little Britain– but it's all over in two minutes. You're not spending 200 pages with them.
The book didn't sell brilliantly at first. Maybe people were scared that I had come from doing a very adult comedy show or perhaps parents were worried about the theme. It's now sold more than half a million copies. On World Book Day, boys go into school as Dennis in a dress and football boots. When I think back to the 1980s, that would never have happened.
The message is: it's OK to be different. I also wanted to make a point about hypocrisy. As a child you're given all these rules – told you should never do this or that – and when you grow up you realise it's the adults breaking them. So it was important that Dennis's headmaster, Mr Hawtrey (I named all the characters after people in Carry On films), turns out to cross-dress himself. We're now casting the TV adaptation, but I'm not going to play him. Instead I'm thinking: which distinguished British actor would I most like to see wearing a dress?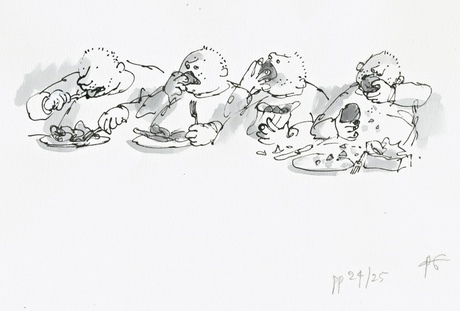 Quentin Blake, illustrator
I'm offered a lot of books that I don't end up illustrating – slightly fewer perhaps nowadays, as people know the writers I particularly like working with: Roald Dahl when I could, Michael Rosen, John Yeoman and Russell Hoban, till he died last year. I tend to go back to the people I know.
But I wanted to do David's book as soon as I read it. It wasn't what I expected. It was funny; it was surprisingly (now I know David, not so surprisingly) sensitive; and it took place in a environment that didn't seem so terribly different from the one I'd grown up in more than 60 years ago at Sidcup Grammar School.
I also liked the prospect of doing black-and-white drawings in a book of text. You don't get that much any more, though it's how Roald and I started out. I do enjoy working in colour but there's something basic about having just a pen and ink and a little bit of grey watercolour to tell a story.
Not everyone understands this, but as an illustrator you collaborate with the words first – it's only later, if you need to, that you talk to the author. I read English literature at Cambridge; I've never had any proper art training except lots of life classes. People tell me my style is very recognisable but it's a question of adapting that style to the mood and atmosphere of the book.
I needed to draw Dennis straight away. I often say you get to know people by drawing them, but Dennis I knew immediately. In some strange way, I related The Boy in the Dress to my own school days and to all the young people who turn up to my exhibitions in their school uniforms. It's not about being gay – I think Dennis just wants to know what it's like to be a girl. In fact, he's terribly taken with the character of Lisa – at one point, he even says, "I'm going to marry her."
David is very aware of Dahl. He's even been compared to him. In my mind, The Boy in a Dress is nearest in tone to Danny the Champion of the World. It has the same relationship to reality – I was almost drawing from life. While I was working, these pictures of schoolboys and girls just kept on coming, which is why I asked for so many extra pages at the front and back.