Kate Moss
A date with Lucian Freud

He gave me oysters, champagne, and made an offer I couldn't refuse …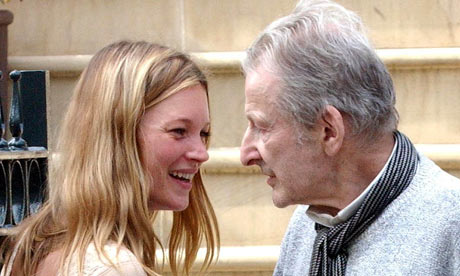 About nine or 10 years ago, I began an ultimately fruitless campaign to get an interview for the Guardian with the reclusive painter Lucian Freud, who died on Thursday.
He rarely did interviews – he did not even have a PR rep – so I rang his poor lawyer month after month asking her to pass on the request. She always kindly called back with his response, which invariably was a polite "no".
After about a year the message changed: he still wouldn't do an interview but he would meet me for lunch.
We ate at a quiet table at the back of Wiltons restaurant. Freud, who was 79 at the time, enjoyed pointing out that Michael Heseltine was at the table behind us. He ordered oysters and lots of champagne, but didn't drink much himself. He talked dismissively of his own family, saying he hated anything that involved "duty or compulsion", which is why he didn't go to his mother's funeral. He felt he had no ties with most of the Freud clan (was never interested to meet his well-connected nephew Matthew Freud, for instance), but was quick to add that, while it was OK for him criticise his brother Clement ("he bores me stiff"), he hated it when others did. He wasn't, I seem to remember, very nice about the Germans.
I asked him about painting the Queen and he described how he'd try to provoke her. "I'd say to her, 'That man – he's so annoying.' And she'd reply, 'I suppose he can be quite trying.' She doesn't have much passion, but I liked her." About the time of the lunch he was painting a pregnant Kate Moss, whom he described as "physically intelligent", but he complained that she was always late.
When I asked what he did in his spare time he said "daydream". He said he was fond of dancing but claimed he didn't have the time to do it any more. Gambling had also lost its appeal, "now I can afford to lose". And he talked about death. "I used to find death much scarier when I was younger – I had more to lose. Now, when I see old people driving slowly I want to shout at them. They should live a little more because it's nearly over for them anyway."
He said he'd always been a risky driver and told me a story about arguing with Esther and Bella Freud's mother, Bernadine Coverley, in the car, and putting his foot down and accelerating without looking "just to make a point. We had a crash and I hurt her knee."
When it came to paying, he pulled a pile of £50 notes out of his pocket, most of them scrunched up like used tissues. Then he asked if I'd like go back to his house and see the painting he was working on. Without hesitation, I agreed.
First, he had to go to the dentist where I had a surreal, 45-minute wait while Freud had his teeth seen to. Then we took a taxi back to his house in Notting Hill. He ushered me into the front room, told me to wait there, and shut the door, leaving me with just his whippet, Pluto, for company.
The room looked out on a completely overgrown garden. His Frank Auerbach paintings were wrapped in bubble wrap and leaning against a wall, having just been lent for an exhibition. He seemed to take ages. I got a bit restless and had a quick snoop in his pantry, where he had little more than lots of bottled water and a few packets of oatcakes. (He didn't like to shop, he said, leaving that sort of thing to his assistant, or "slave" as he wryly liked to label him.)
Then he appeared and said the painting was ready. We went upstairs, heading, I thought, towards his studio on the first floor. But then a hand appeared on my lower back and ushered me on – upwards towards his bedroom on the second floor.
There was at least one Francis Bacon on the wall. His own painting which he had to show me was Self Portrait, Reflection, now quite a well-known work of him clutching at a loosely tied scarf or cravat. It had been placed on the mantelpiece of the room, just opposite the bed.
I made all the right noises about the work but it was about this time I realised he hadn't asked me there for my art criticism. "It looks better from back here," he said, and I turned to see him reclining on the covers. I made my excuses to Britain's greatest living painter, and left.
Family and fortune
Lucian Freud's complicated and unconventional family life saw him fathering at least 13 children, though there could be others who might have a claim on an estate worth, according to one estimate, £125m.
After an affair with Lorna Garman, a member of London's bohemian Bloomsbury set, Freud went on to marry her niece Kitty Garman, daughter of Kathleen and Jacob Epstein, a sculptor.
With her, Freud fathered two daughters, Annie and Annabel, before their marriage ended after four years.
His subsequent marriage to Lady Caroline Blackwood, novelist, actress and Freud's muse born into an aristocratic Anglo-Irish family, ended after five years with no children.
With writer Bernardine Coverley he had two daughters, Bella Freud the fashion designer and Esther Freud, the novelist.
He also had four children with another mistress and his former pupil at the Slade School of Fine Art, Suzy Boyt - Ali, Rose, Isobel, and Susie.
A son, Frank, resulted from his relationship with the painter Celia Paul.
The existence of four others, Paul, Lucy, Jane and David from a relationship with Katherine McAdam, a fashion designer, was revealed by the Sunday Times in 2004.
McAdam, who had babysat for Freud's children with Kitty, began a relationship with him while at St Martin's art college in London in the late-fifties, but later cut herself off from him altogether.
In an interview earlier this year Lucy, one of "the forgotten Freuds", said: "There are 13 children that we know of, and three of those – myself, Bella and Ibby [Isobel] – were all born in 1961". Caroline Davies
http://www.guardian.co.uk/artanddesign/2011/jul/22/lucian-freud-painter-interview
http://www.bohomoth.com/?p=19759
Read also
BIOGRAPHY OF KATE MOSS