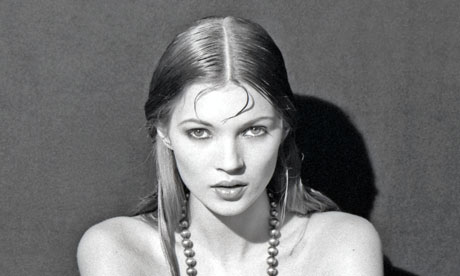 Kate Moss has given a rare, in-depth interview to Vanity Fair, in which she looks back on almost 25 years as a model. Her revelations that she felt exploited, panicked and out of her depth as a teenager plunged into the world of high fashion – together with the fact that pastoral care was basically nil – are sad and not surprising. You can only hope that today's models are better looked-after. The fact that there is a union for models is a good start, and long overdue.
Moss singles out the shoot that launched her 25-year career of fantastic success as one on which she felt particularly uncomfortable. "I see a 16-year-old now, and to ask her to take her clothes off would feel really weird," she says. "But they were like: if you don't do it, then we're not going to book you again. So I'd lock myself in the toilet and cry and then come out and do it."
Clearly, even with the sole man on the shoot turning his back as Moss divested herself of her bikini (the pictures were taken by a woman, Corrine Day), blackmailing someone, especially someone so young, into taking their clothes off would not be something one could defend – which no doubt makes what I am about to say sound even worse. But here goes: this wasn't any old topless shoot, but one which changed the course of fashion history.
When Moss appeared on the cover of the Face in 1990 with an image taken from this session (the rest ran inside), it marked nothing less than the transition from the 80s to the 90s. As I wrote last year when the pictures were exhibited in London, the sight of flat-chested, wonky-toothed Moss wearing a feathery headdress seemed to encapsulate the euphoria of those long-distant times. In 1990, the Berlin wall had just come down, rave culture was going full pelt and the feeling that old certainties were being toppled by a new generation. Moss put a face to that generation.
At a stroke, the pictures redefined the prevailing ideals of beauty. Moss says that she felt self-conscious about the mole on her breast, but the fact that she showed it did us all a favour. Suddenly power-dressing, pointy bras and wearing two inches of slap were out, while wonky teeth, greasy hair and generally looking normal were in. Moss was recognisably a young woman with a personality – and from Croydon, south London, at that. She wasn't some passive fantasy glamourpuss. The reason many women feel an affinity with her – the fact that she is unpolished, unapologetic and up for a laugh – starts right here in these early pictures.
Moss had no way of knowing – especially at such a young age – that the pictures she was making would turn out to be revolutionary, but it would be a shame if she was unable to feel some good about the impact they caused. Her quotes in Vanity Fair suggest not, but the fact the she had a long friendship as well as working relationship with Corinne Day (who died in 2010), implies that her feelings could be more ambivalent.
No one should be coerced into doing something they don't want to, but without nude models, art history as we know it wouldn't exist. Certainly Moss's topless shot tells us as much about the mores of 1990, as the woman lounging naked at a picnic in Manet's Le Dejeuner Sur L'Herbe
does about the changing sexual attitudes of the early 1860s.
For many models, taking your clothes off is part of the job. When I worked for the Face (much later – I started in 1999), our fashion director Katie Grand was at pains to emphasise that a fashion shoot was a collaboration between model, photographer, stylist and all the other people who worked on it, and that the models – particularly if they had to take their clothes off, a freguent occurrence in her pictures – should feel an active, looked-after part of the creative process rather than its passive subject. Hopefully that is the way fashion shoots work now. The fact that Moss has posed for umpteen nudes since, with many different photographers, suggests that it was the coercion rather than the nudity that upset her.
Ultimately, the shoot was a bad experience for Moss, but a turning point for fashion and art. Back in 1990, she took one for the team.
guardian.co.uk © Guardian News & Media Limited 2010
Published via the Guardin News-Feed plugin
for WordPress.