Kate Moss: the style icon
who suffered in silence
She has survived nearly 25 years in fashion, thanks to her ability to reinvent herself. Now a new book underlines her timeless appeal. But was she always happy?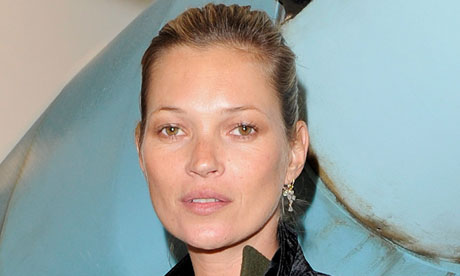 This week, a new coffee-table art book dedicated to Kate Moss is published. It's a deluxe retrospective of the world's most famous model's career, featuring photos by Mario Testino, Karl Lagerfeld and Hedi Slimane. Co-edited by Jefferson Hack, her ex and the father of her daughter, Lila Grace, it will no doubt be a thing of great beauty, but it won't attract half the fuss that last week's Vanity Fair interview with Moss has.
We have been looking at Kate's face for nearly 25 years now. It's as arresting as ever and still worth millions – in 2011 she was the third highest paid model in the world – but what she thinks and feels is closely guarded. She rarely gives interviews or comments to the press, which increases the impact of some of her sad and surprising revelations.
Moss has achieved something that no other model has. She had worked in fashion over three decades, launching trends, defining styles, but never becoming dated. Most models as famous as Moss become irrevocably associated with one era – Twiggy and the 60s, Lauren Hutton and the 70s – and though they enjoy revivals if their look comes back into fashion or their career changes, no one else has represented the constantly evolving face of fashion from one year to the next. She was the pin-up for grunge in the early 90s. Her name was synonymous with heroin chic in the mid 90s. Next came boho chic. At the turn of the century, she effortlessly morphed into the skinny rocker aesthetic. She's appeared in ad campaigns for brands pitched at every price bracket from Mango to Louis Vuitton. Her look evolves and so does she.
Makeup artist Charlotte Tilbury has said that Moss is the epitome of beauty. "She is a makeup artist's dream with her killer cheekbones, heart-shaped lips and incredible almond-shaped eyes – a modern-day beauty icon."
Moss was also one of the biggest winners when a new way of looking at fashion emerged in the late 90s. Celebrity culture, viewed through the prying lens of the paparazzo and enjoyed in magazines such as Heat, changed the way we consumed fashion.As the internet took hold, the scrutiny of celebrities' wardrobes intensified. While most endured mortifying Tumblr feeds of unflattering shots and wardrobe malfunctions, Moss's appeal flourished. The evolution of the pap shot meant that Moss now didn't need an ad campaign or a magazine to introduce a new trend. It was her clothes, rather than designers', that people coveted. In 2007, she collaborated with Topshop on a line for which she was reportedly paid £3m. She had her own perfume, designed handbag ranges for Longchamp.
Images of her life had as much impact as her ever-growing portfolio of magazine covers. Moss with boyfriend Johnny Depp. Moss with bad boyfriend Pete Doherty. Moss falling properly in love with the Kills musician Jamie Hince. Moss at Glastonbury. Moss in Ibiza, at every party you'd never get invited to. Even Moss at her local, hanging out with her mates, looked amazing. Her life appeared more glamorous than most of the Vogue photoshoots she starred in.
But it wasn't without controversy. When she started, the fashion world was focused on the Amazonian glory of the 80s' supermodels and her thin frame was criticised for promoting anorexia, a situation not helped when, in 2009, she told wwd.com that her motto was "nothing tastes as good as skinny feels". Her association with heroin chic (the fashion vogue for using skinny models in languid, spaced-out poses) was also controversial.
One British Vogue shoot, from June 1993, shot by Moss's long-time collaborator, photographer Corinne Day, depicting the model in her knickers and a vest, caused press outrage. She was accused of glamorising drug-taking, which came back to haunt her in September 2005 when the Daily Mirror ran photos of her apparently taking cocaine. She was never charged with any drug offences but headed to rehab. She lost contracts with H&M, Burberry and Chanel as a result of the scandal, but the fall from grace that so many predicted never happened. She was working with Burberry and Chanel again within a year and her earnings are thought to have doubled after the incident, from £2m to £4m.
For a lot of people – women in particular, because Kate's main appeal is as a style icon rather than as a sex symbol – her life has seemed charmed and desirable. While the Vanity Fair interview in no way negates that, it is sad to read that Moss's early experiences in the fashion industry were no different from any other vulnerable young model's. She's done a lot more crying that most people would imagine.
During the July 1990 cover shoot for the Face magazine that launched her career – shot at Camber Sands by Corinne Day when Moss was 16 and called "The 3rd summer of love" – she locked herself in a lavatory and cried because she was asked to go topless. "I see a 16-year-old now and to ask her to take her clothes off would feel really weird. But they were like, if you don't do it, then we're not going to book you again," she told Vanity Fair.
Richard Benson, who went on to edit the Face in 1995, had just started at the magazine when the Kate Moss cover was published. "I find it quite distressing to think about what she says, because that shoot seemed to capture the mood of that summer. To me, the point was that it looked like an ordinary British girl mucking about and having a laugh with her mates in a very British situation: a beach that wasn't quite as warm and sunny as you wished it would be."
That shoot was seen by Fabien Baron, then creative director of advertising at Calvin Klein, and was one of the reasons why in 1993 he gave her an eight-year contract for the company. Moss now says that shooting those ads, particularly a set shot by Herb Ritts in which she posed with Mark Wahlberg, made her break down. "It didn't feel like me at all. I felt really bad about straddling this buff guy. I didn't like it. I couldn't get out of bed for two weeks. I thought I was going to die."
The revelations feel uncomfortable juxtaposed with Vanity Fair's photo of a topless Moss on all fours, one leg in the air. I spoke to a lot of people in the fashion industry for this piece, none of whom wanted to be quoted. All of them portrayed Moss as funny, friendly, but extremely sharp and self-aware. It's hard to imagine that she won't be aware of the impact her comments will have on the way that people view her, that she's more vulnerable than anyone would have previously thought.
It's also interesting that the woman who has never once criticised the fashion industry in the 25 years she's worked in it has only commented negatively on two photographers – Corinne Day and Herb Ritts – who are both dead. It might be a coincidence or it might be very clever.
Perhaps the most poignant revelation is that on her wedding day she turned to John Galliano, her old friend who'd designed her dress for her, and told him that she was freaking out. "Who am I?" she asked: "You've got to give me a character." Galliano told her that she was the last of the English roses but that when her groom lifted her veil he would "see her wanton past". This sort of direction is common in fashion shoots and she'll have been hearing it since she was 14, so perhaps it's unsurprising that she wanted it on her wedding day, aged 37, but doesn't it also seem a little sad?
The Kate Moss Book will undoubtedly become a collector's item and, given the people who have contributed to it, will be a worthy tribute to the greatest model of the modern age. The interview? It gives you something that no image can. It makes you feel sympathy and admiration. Sometimes a little explanation is a very good thing.
THE MOSS FILE
Born 1974, Croydon, to barmaid Linda Moss and Peter Moss, a travel agent. She was scouted at the age of 14 at JFK airport by Sarah Doukas of Storm Models. She started working with designer John Galliano at 15 and appeared on the cover of the Face magazine the next year. She has been British Vogue's cover girl more than 30 times.
Worst of times Her relationship with singer Pete Doherty, during which she was embroiled in the "cocaine Kate" scandal of 2005. She finally broke things off with Doherty in 2007.
Best of times Marrying Jamie Hince of rock band the Kills in July 2011. The wedding photographer was Mario Testino. The dress was designed by John Galliano and the guests included Jude Law, Stella McCartney, Philip Green, Naomi Campbell, Anna Wintour and Marc Jacobs.
She says [on modelling] "It's an instinct. Nobody tells you what to do. So I have to feel, without any words, what they want and where the light is and how I'm going to make it work. It's a puzzle. That's what's good about it."
They say "For a bad girl she's always been very well behaved." Keith Richards
http://www.guardian.co.uk/theobserver/2012/nov/04/profile-kate-moss
Read also
BIOGRAPHY OF KATE MOSS