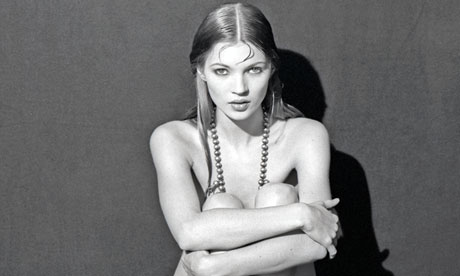 as a young model?
In 1990 she was just 16 when a nude photoshoot launched her career. But it wasn't a happy time, says the supermodel
She is laughing, but the body language couldn't be clearer –
Kate Moss
covers her bare breasts with an arm, and hunches over, trying to conceal the rest of her naked body with a sunhat. The photograph, one of a series taken by
Corinne Day
that also included a topless photograph, appeared in the Face magazine in 1990 and launched Moss's career, though two decades on she does not remember the shoot as a happy one.
"I see a 16-year-old now, and to ask her to take her clothes off would feel really weird," she says in an interview with Vanity Fair. "But they were like: If you don't do it, then we're not going to book you again. So I'd lock myself in the toilet and cry and then come out and do it. I never felt very comfortable about it."
Moss also tells the magazine that she sought medical help for anxiety two years later. "Nobody takes care of you mentally. There's a massive pressure to do what you have to do."
This happened 20 years ago – and Moss, of course, went on to have a phenomenally successful career, becoming one of the most powerful models, and remained close to Day.
Other models, though, say the industry is not much different now. "Nothing has really changed," says Victoria Keon-Cohen, a model and founding chair of Equity's Models' Committee, which now has around 800 members. "Until we started the union there wasn't any recognition of this kind of treatment in the industry. We wanted to help young models assert themselves and understand what rights they have. Unfortunately what Kate is talking about does still happen and has happened to me."
"It is not uncommon for models who are children to be asked to take nude or semi-nude photos," agrees Sara Ziff. "I started modelling at 14 and there were several occasions where I was put on the spot to take topless photos." Ziff founded the Model Alliance union in the US to set standards, and doesn't think "significant change is going to happen until there are laws that protect child models in the way other child performers are protected". In a previous interview, she described how, when a 16-year-old model complained that a 45-year-old photographer had propositioned her, "her agency said she should have slept with him".
But as Moss's comments show, it isn't only predatory men who are the problem, but a blurring between sexual imagery and fashion, and the models who have to negotiate it are often young – and fear speaking out.
For any model worried about their career, the pressure to keep quiet is strong enough, she says, "And then you've got girls from eastern Europe who are responsible for supporting their families."
"There will always be horror stories, but I think it's a less frequent occurrence now because I think everyone is much more aware of [models' wellbeing]," says Rosie Vogel, bookings editor at Vogue. "These younger girls often have chaperones - their agent would be there." Vogue's minimum age limit for models is 16. "Not everyone has the ethics that we do, and you can't police everyone. There will be people who will exploit girls but hopefully it's getting better. A lot of the girls are more outspoken and they're not as afraid to say they are not comfortable."
Do agencies do enough to support their models? (Storm, Moss's agency since she started, didn't respond for this piece). "Some do look after their girls, but they are a business and they have a lot of models to take care of so it is very difficult to make sure the support is consistently there. That's another reason we started – so models can have their own access to counsellors and a support network. It is improving but it's a long road," says Keon-Cohen.
http://www.guardian.co.uk/lifeandstyle/shortcuts/2012/oct/31/was-kate-moss-exploited
Read also
BIOGRAPHY OF KATE MOSS