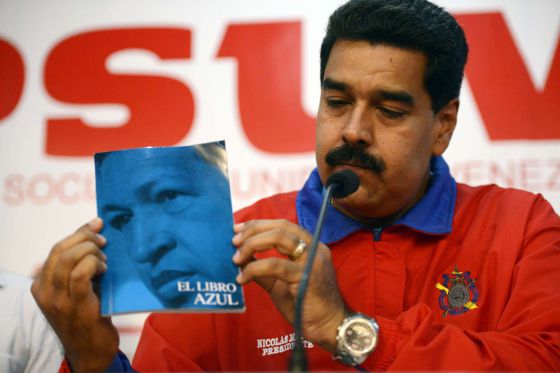 Maduro shows the so-call "Blue Book" which contains Chávez thought. /
AFP
Venezuela believes happiness should be in national interest
President Maduro creates new office to supervise social programs coming out of Havana
For the Venezuelan government, happiness should be in the national interest. So President Nicolás Maduro announced on Thursday that he was appointing a new deputy minister responsible for people's social happiness.
Among the duties of the new deputy minister will be to supervise the social missions between Caracas and its major ally Havana, which were created under late President Hugo Chávez.
The office will be dedicated to Chávez and 19th-century liberator Simón Bolívar and will help with the needs of the most impoverished citizens and deal with their complaints, said Maduro, who explained that the new ministry was the brainchild of his wife, Cilia Flores.
"We must take these missions to heaven as a gesture of thanks to Hugo Chávez," Maduro said in a live address from Miraflores presidential palace.
The first so-called missions were established in 2003 at the urging of Fidel Castro a year before Chávez faced a heated recall referendum that the opposition demanded after he reached the midway point of his second term in office. They comprised of Cuban doctors going into Venezuela's poorest neighborhoods and offering free medical services, programs for the elderly and educational opportunities for students.
The concept also strengthened Chávez's popularity, and Maduro wants to repeat its success at a time when Venezuela is facing severe food shortages, high inflation, rampant crime, and currency devaluations.
Maduro's announcement also comes ahead of important municipal elections on December 8 in which the opposition has been calling on Venezuelans to demonstrate their rejection of the government's policies. Maduro has proclaimed December 8 in honor of Chávez and asked the armed forces to on that day instruct their troops to focus on the writings and political theories of the late president.
Nace el viceministerio para la Suprema Felicidad Social del Pueblo Venezolano
El presidente Maduro crea una nueva instancia para supervisar los programas sociales ideados en colaboración con La Habana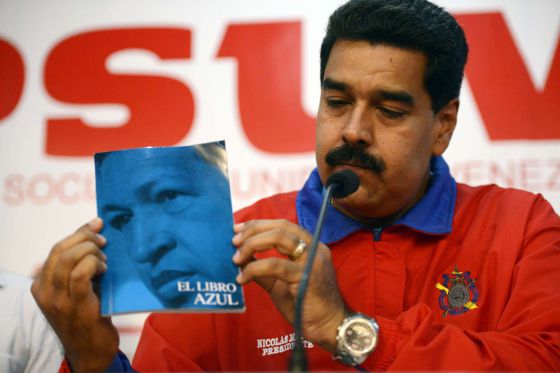 Para el chavismo la felicidad es un asunto de interés nacional y puede permanecer en forma de decreto. Para refrendar esa cosmovisión su líder máximo, el presidente Nicolás Maduro, ha decidido crear el Viceministerio para la Suprema Felicidad Social del Pueblo Venezolano. La nueva instancia supervisará los programas sociales llamados Misiones, creados en 2003 gracias a la estrecha relación entre Caracas y La Habana
El gobernante venezolano ha decidido llamar de esa forma a la nueva estructura en honor a su padre político, Hugo Chávez, y al libertador Simón Bolívar. Por sugerencia de su esposa, Cilia Flores, Maduro ha decidido que ese despacho sea una gran oficina de beneficencia con un mando centralizado, donde cursen reclamos y necesidades de los venezolanos más vulnerables y el Gobierno tenga claro a quién pedir cuentas. El jefe del despacho será el ex diputado Rafael Ríos y contará con la colaboración del médico del primer Chávez, Julio César Alviarez, y de Absalón Méndez.
El anuncio se hará oficial una vez que aparezca en la Gaceta Oficial de este viernes. El gobierno considera que sus programas sociales trascienden el alcance del Estado de Bienestar porque saldan la deuda social acumulada antes de su llegada al poder. "Estas misiones tenemos que llevarlas hasta el cielo en agradecimiento a Hugo Chávez", reiteró Maduro desde el Palacio de Miraflores en Caracas.
En realidad Chávez relanzó su presidencia tras masificar estos programas sociales gracias a una sugerencia que le hiciera Fidel Castro en 2003, en vísperas de un referéndum revocatorio solicitado entonces por la oposición. Las Misiones son la gran fortaleza clientelar del chavismo y por esa razón el gobierno quiere reforzarlas en plena crisis de abastecimiento. A través de esos programas, por ejemplo, se brinda atención médica a las comunidades más humildes, se ofrece oportunidades de estudios o se atienden a los ancianos y a las personas con discapacidad.
El presidente volvió a reiterar su anuncio de la víspera: el próximo 8 de diciembre será el primer día de la lealtad con Chávez y pidió a la Fuerza Armada Nacional que difunda el pensamiento del líder bolivariano entre sus simpatizantes. Maduro ha convertido a su gobierno en un diario homenaje a la obra de su líder. La fecha coincidirá este año con la celebración de las elecciones municipales que la oposición ha tomado como la primera prueba de fuego que enfrentarán los herederos.