From the archive, 25 February 1960: Bitter taste of 'La Dolce Vita'
Originally published in the Guardian on 25 February 1960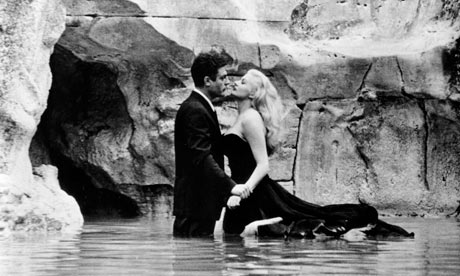 With his latest film, Federico Fellini has started off probably the most violent, widespread, and far-reaching controversy in the Italian cinema's history, a controversy which is now being joined by almost every faction in the country. First reaction to "La Dolce Vita" was passionate. After its noisy Milan premiere a man spat on Fellini "in the name of the fatherland." After the Rome premiere, watched in glacial silence by the cream of Roman society, Fellini was challenged to a duel. Later, a packed debate on the film, presided over by the novelist, Moravia, turned into a fight settled only by the arrival of jeep-loads of armed police.
The cause of the uproar is the film's "exposure" of corruption, debauchery, perversion, and the aimlessness among the high society, the intelligentsia, and the film and press worlds of Rome, a state of affairs long since apparent to the informed but never before brought out into the open so frankly or treated so seriously.
"La Dolce Vita" unfolds itself in a series of loosely-knit episodes seen through the eyes of a gossip columnist cum press photographer, and ranges from a striking scene of the capital's elite invading the countryside to watch a miracle that fails to occur, to scenes of sexual promiscuity, homosexuality, escapism, boredom, and orgy. Throughout, the technique shifts constantly between satirical caricature and dead-pan neo-realism.
Moravia has called the film "one of the most important and significant films of recent years" and the novelist Giuseppe Marotta praised it in superlatives, declaring Fellini second only to de Sica. The Church thought otherwise. The Vatican newspaper "L'Osservatore Romano" launched a full-scale attack on the film, labelling it an "incitement to evil crime and vice," deploring its effect on "unsafe minds," and roundly rebuking Fellini for trying to "moralise through immorality." Catholic Action, the Church's lay organisation, subsequently demanded its withdrawal from circulation.
Typical public reaction to the film was later voiced by three Christian Democrats who tabled a question asking the Government if it was aware of people's anxieties that the film "could throw a slanderous shadow over the population of Rome, over the dignity of Italy's capital and Catholicism." Throughout the controversy the Catholics have found themselves receiving embarrassing support from the extreme Right Wing who, faithful as always to the cause of la patria, either deny that Fellini's Rome exists or accuse him of pornography. Fellini's warmest supporters are the Communists, who insist on seeing him as a sort of champion of the people against the corrupt and corrupting ruling classes. Amid all the uproar, the intentions of Fellini in the film are rarely consulted. The director of "La Strada," "I Vitelioni," and "Cabiria" confesses himself nonplussed by the fuss his film has caused and amazed that so many have interpreted it as a national indictment.