Alvaro Mutis, celebrated Colombian-born poet and novelist, dies in Mexico at 90
Alvaro Mutis, a celebrated Colombian-born writer who drew on his lifelong wanderings to create the character of Maqroll the Lookout, a modern-day philosophizing, seafaring adventurer, died Sept. 22 in Mexico City. He was 90.
His wife, Carmen Miracle, told the Mexican media that the cause was a cardiorespiratory ailment. An expatriate not unlike his fictional hero, Mr. Mutis had lived for more than five decades in Mexico.
In the Spanish-speaking world, he was considered a towering figure of Latin American letters. Gabriel García Márquez, the Nobel Prize-winning Colombian author, once described his friend Mr. Mutis as "one of the greatest writers of our time."
Mr. Mutis was credited with imbuing his poetry and fiction with the evocative sensuality, mysticism and imagination that characterized many of the most lauded works in Spanish-language literature.
By the end of his life, Mr. Mutis had received prestigious literary honors including the Prince of Asturias Award and the Miguel de Cervantes Prize. But for years he had gone undernoticed in Latin America — and almost entirely unnoticed elsewhere — as he pursued a workaday, if successful, business career.
He worked in Colombia as a public relations manager for Standard Oil and later in Mexico as a sales manager with 20th Century Fox and Columbia Pictures. Among other curiosities, he provided the voice-over for the Spanish-language version of the TV crime drama "The Untouchables."
Mr. Mutis sold re-run broadcast rights in Latin America to programs such as "Punky Brewster," "The Mary Tyler Moore Show," "Diff'rent Strokes" and "Fantasy Island."
He once remarked that he wrote his early works "under the most absurd circumstances — hotels, airports, bars" — until he retired from Columbia Pictures at 60.
"Without this rambling career," the novelist John Updike wrote in the New Yorker magazine, "how could he have supplied the eerie wealth of maritime and dockside details, the delirious abundance of geographic and culinary specifics, that give fascination and global resonance to his novella-length tales of Maqroll?"
Maqroll — whose name was intended to reveal no particular nationality — was born in one of Mr. Mutis's early poems. The character grew into a full-fledged literary hero through his appearances in novellas: tales that included such escapades as a jaunt through a Peruvian gold mine, management of a brothel and an encounter with a tramp steamer.
That volume contained seven novellas, translated as "The Snow of the Admiral," "Ilona Comes With the Rain," "Un Bel Morir," "The Tramp Steamer's Last Port of Call," "Amirbar," "Abdul Bashur, Dreamer of Ships" and "Triptych on Sea and Land."
Writing in the publication World Literature Today, Grossman described Maqroll as "a knight errant with a duffel bag over his shoulder and a watch cap on his head, whose only home is the road he travels.
Álvaro Mutis and García Márquez
Guadalajara, México, 2007
Álvaro Mutis Jaramillo, Colombian writer and poet,
dies aged 90
Tributes paid to man considered one of the most outstanding poets and storytellers of his generation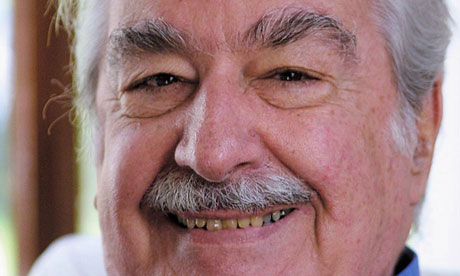 Prolific Colombian writer and poet Álvaro Mutis Jaramillo has died in Mexico City. He was 90 years old.
The cause of death could not immediately be confirmed, though Mexican media quoted his wife, Carmen Miracle, saying he died in hospital from a cardio-respiratory problem.
Mutis enjoyed wide popularity outside Colombia and was considered by critics as one of the most outstanding poets and storytellers of his generation, after his good friend, Nobel laureate Gabriel Garcia Márquez.
Despite the difficulties he faced, including spending time in a Mexican prison, Mutis produced an extensive collection of novels and poetry that earned major international honours such as the Xavier Villaurrutia, Prince of Asturias and Cervantes prizes.
Mexico's national commission for culture and the arts paid tribute to Mutis via its Twitter account.
The Colombian president, Juan Manuel Santos, sent his condolences after Mutis's death was confirmed by the cultural commission on Sunday night.
"The millions of friends and admirers of Álvaro Mutis profoundly lament his death," Santos wrote. "All of Colombia honours him."
Colombian writer Gustavo Álvarez Gardeazábal called him "a remarkable narrator, remarkable poet and remarkable friend".
Mutis was a witty man with a great sense of humour, Mexican poet Hugo Gutiérrez Vega said in a recent interview with the cultural commission commemorating Mutis's 90th birthday.
"He describes a lost world, the old Colombia of rural ownership, like the family Mutis," Gutiérrez said, noting that he spent part of his childhood at the family coffee and sugar cane farm in Coello.
From that experience, he developed a fascination with the sea, the tropics and the smell of coffee that marked his literary works, according to the commission.
Born on 25 August 1923, in Bogotá, Mutis was the son of Colombian diplomat Santiago Mutis and Carolina Jaramillo. He spent part of his early years in Brussels, Belgium, where his father served as Colombia's ambassador.
His literary career began in 1948 with the publication of his first volume of poetry, The Balance, followed in 1953 with Elements of the Disaster.
Before winning fame as a writer, Mutis traveled to Mexico in 1956 with letters of recommendation from prominent Spanish filmmaker Luis Buñuel and Mexican television producer Luis de Llano Palmer and never left.
Three years after his arrival, he spent 15 months in Lecumberri prison in Mexico City, accused of embezzlement by the US multinational Standard Oil Co of New Jersey, where he worked as head of public relations.
He wrote Diary of Lecumberri, published in 1959, about his experience in the infamous lockup, which he called "a lesson I will never forget in the most intense and deep layers of pain and failure".
Mutis's work, according to critics, is distinguished by a rich and interesting mix of lyrical and narrative.
He started gaining popularity in 1986 with the publication of his first instalment of his most famous work, The Adventures and Misadventures of Maqroll, a collection of seven novellas about a wayward and quixotic sailor, considered one of the most memorable characters in fiction of recent decades. Many say Maqroll mirrored the writer, who travelled extensively in many jobs that included broadcaster, film executive, radio actor and newspaper columnist.
After retiring in 1988, Mutis devoted himself to reading and writing.
His novels include The Manor of Araucaima and The True Story of the Pied Piper of Hamelin.
Read also