Interview
Sissy Spacek: 'I was fearless'
Thu 19 Mar 2015
Sissy Spacek has been away. She disappears often. Since making it big as one of the golden girls of 1970s Hollywood, she has been a fan of the hiatus, frequently leaving the limelight to take stock, to enjoy life on her Virginia farm, and to raise her kids.
Now, in her first role since 2012, Spacek is about to star as Sally Rayburn, the matriarch in Bloodline, the new thriller series from Netflix. So what's she been up to? "Family and animals," she beams, sparky and exuberant as she sits on a sofa in a London hotel. "I need to fill myself up with real life. That's kind of the well I draw from. Though this show has been a wonderful experience: I'm exploring my seventh decade with this role."
Spacek, now 65, has been acting since 1972. Even back then, she was always careful about what parts she agreed to, finding immediate success as Holly Sargis, the teenager who runs away with a psychopath in Terrence Malick's Badlands. By 1976, she had become an icon, thanks to Brian de Palma's Carrie, which she followed with an appearance in 3 Women, directed by Robert Altman. After that, she didn't make a film for three years. When she returned, to play Loretta Lynn in Coal Miner's Daughter, she won an Oscar.
Decades later, she's still a great actor, bringing grace and weight to Bloodline, in which she plays wife to Sam Shepard and mother to four combative middle-aged kids. A taut family noir co-created by Todd A Kessler, a writer and producer on The Sopranos, Bloodline is set in the forests and wetlands of Florida Keys where the Rayburns run a picturesque hotel. When their eldest son Danny returns home, old wounds are ripped open and the façade falls away from his not-so-squeaky-clean siblings, all of whom are desperate for their parents' affection.
"I think they've just put things away and moved on," Spacek says, of the past traumas that lie at the heart of Bloodline, "rather than address them and have them be alive in their lives." It's a scenario that has parallels with her own family background. Her older brother Robbie died from leukaemia when she was 17. "For me, the grief was almost like rocket fuel," Spacek wrote in
My Extraordinary Ordinary Life
, her 2012 autobiography. Having grown up a tomboy in the small Texas town of Quitman, she left for New York to hang out with her cousin, the actor
Rip Torn
, became a singer and then an actor. How did her brother's death influence her acting?
"I think it made me brave," she says. "Once you experience something like that, you've experienced the ultimate tragedy. And if you can continue, nothing else frightens you. That's what I meant about it being rocket fuel – I was fearless in a way. Maybe it gave more depth to my work because I had already experienced something profound and life-changing. It was a devastating blow but it became a real positive. I grew so much and it was definitely because of my mother. She wanted all of us to be better through what we had experienced – and not be devastated by it. Something like that can propel you or it can be a black hole that sucks all the life and air out of the room. And I think the Rayburns, and particularly Sally, don't have the tools to understand that."
Danny is played by
Ben Mendelsohn
, the Australian whose recent roles in the likes of Animal Kingdom, The Place Beyond The Pines and Starred Up have established him as something of a firecracker, an actor with a dangerous unpredictability, all of which makes him perfect for this new part. Like Spacek, Mendelsohn is no stranger to family upheaval. His parents divorced when he was six and he later went a little off the rails, finding himself expelled from boarding school at the age of 13 for, as he says cryptically, "burning stuff". He became an actor, finding the family he lacked in the Australian film industry.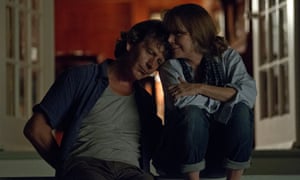 Sissy Spacek with Ben Mendelsohn as her eldest son in Bloodline.
Danny has a brother called John, a seemingly upstanding figure played by Kyle Chandler, whose reasons for taking up acting aren't dissimilar to Mendelsohn's. After ending a five-season spree as coach Eric Taylor in US football drama Friday Night Lights, Chandler worked his way through small but meaty roles in Argo, Zero Dark Thirty and The Wolf of Wall Street. Bloodline, he says, appealed to him from the start. He grew up in Georgia, enjoying an idyllic childhood until, at the age of 14, his 56-year-old father died of a heart attack. For a couple of years, he fell into a life of drink, drugs, car crashes and arrests, getting into acting in a bid to find new father figures.
Is he still searching? "Yeah, I think so," Chandler says. "Now that I have kids, I look at them and think about our relationship. I see things I missed out on when I was younger and could have used help with. There was something missing when I was a kid. I didn't have a father to guide me. I had to figure those things out for myself. I was a pretty insecure kid and became somewhat introspective. I looked at other people to see how they fitted in, I was more observant of life around me. Once I got into acting, without realising it, I had a pretty good grasp of how to take all those pieces I had in my memory and use them in acting. It's odd, too, because my dad used to call me a faker when I was a little kid all the time. I often think about that."
As for Spacek, she lives for family these days, priding herself on being an ordinary girl with roots in smalltown Texas. But there's no denying her otherness, her ethereal beauty. Somehow she manages to exude an air of purity, gliding about on screen with hypnotic oddness. Spacek has never bowed to Hollywood pressures. After playing Loretta Lynn, she received a telegram from Dolly Parton, reading: "Dear Sissy, I hope you make millions of dollars from Coal Miner's Daughter so that you can get a boob job and do the Dolly Parton story." Needless to say, there was no boob job.
We talk more about her Hollywood hiatuses. I'd read a 1979 interview with her by Cameron Crowe in Rolling Stone. At one point, Spacek's father takes Crowe out on a boat and confides his concerns about his daughter. I read out his quote: "We've been worrying a bit about Sissy lately. She's passed on so many projects, you know. Rip is an actor who has mouths to feed, like many of them. He admires Sissy for being able to hold out. But he worries for her, too. We don't want to see her lose what she's built up to."
Spacek's eyes light up as she remembers her time with Crowe, and she's happy to explain why she's never been afraid to disappear for years on end. "Maybe I was naïve," she says with a smile. "I just thought it would always be the way it was. Maybe it's because I became involved with a young artist who I later married, Jack Fisk, and we had this plan to live the art life. But also, my cousin Rip told me early on, 'I hope you're doing this for the right reasons. If you're doing it because you wanna see yourself huge on the screen, that's the wrong reason. But if you're doing this because you are interested and you love the work, you'll have a happy life.' That was some of the best advice I ever got. And because of losing my brother I didn't have fear. The world was my oyster. And also, maybe, ignorance is bliss."