Luscious ... one of Emily Sutton's illustrations for Katherine Rundell's One Christmas Wish.
The best children's books of 2017
Whatever their age, kids will be engaged and inspired by this year's diverse offerings
Illustration by Matt Blease
Imogen Russell Williams
Sat 2 Dec '17 07.30 GMT
Age 0-4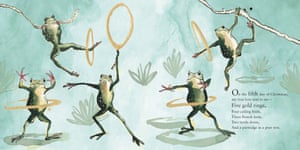 Frog lords ... The Twelve Days of Christmas, illustrated by Anna Wright. Photograph: Faber
Age 5-8
Colourful ... a Harry Bloom illustration for David Long's Pirates Magnified. Photograph: PR
Age 8-12
Harry Potter and the Prisoner of Azkaban by JK Rowling, illustrated by Jim Kay.


Age 12+