A brief survey of the short story part 24: Lydia Davis
Eschewing literary convention, Davis's stories blur diary, report and prose, with passion for language and cool wit as constants
by Christ Power
THE GUARDIAN, Thursday 11 February 2010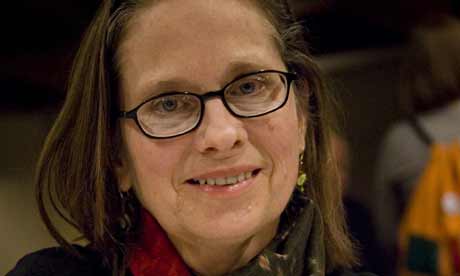 Intrepid when it comes to style, wide-ranging in choices of subject and unceasingly cerebral, there are many places you might find yourself when you enter a Lydia Davis story. Open one of her four collections – or better yet, last year's Collected Stories (to be published in the UK by Hamish Hamilton this summer) – and you could just as easily encounter the split-page experimentalism of
Southward Bound, Reads 'Worstward Ho'
; The Furnace, seemingly a memoir documenting a parent's dementia; Cape Cod Diary, which reads like one; or We Miss You, a sociological report struggling to maintain professional reserve and resist telling the stories that strain at its seams.
What you won't find, not really, are stories that follow the established post-Chekhovian patterns. One of the defining features of Davis's work, one I believe to be less about iconoclasm than a simple reflection of her interests, is its hardline avoidance of many literary conventions. As
she told the Believer in 2008
, "I am simply not interested, at this point, in creating narrative scenes between characters."
Amid all this variety, though, there are constants. Readers will nearly always encounter a vivid, often supremely deadpan wit; brevity (some stories are brief as haiku, or flash fictions; very few exceed 10 pages); an absence of plot; and an often extreme emotional detachment.
To start at the end of that list, lots of Davis's narrators adopt the neutral tone promulgated by the show-don't-tell school of
fiction
, while many stories are occupied with failing relationships. This is especially true of
Break It Down
(1986), which collects several stories written in the late 1970s (Davis divorced her first husband, Paul Auster, in 1978). In these stories it seems that the impetus is defensive, as though the admittance of grief might provoke the narrator's collapse. Rather than segue into pathos at a story's end, as many writers seeking a concluding payoff might, Davis maintains her pitiless line. Indeed, her crosshatching of the bleak and blank is at times so unwavering that some commentators have asked if her characters are autistic. That's a little diagnosis-happy, I think, but illustrative nonetheless.
While personal feeling is often bulwarked, a wholly unguarded passion for language streaks across Davis's pages. "At the end of the meal," she writes in Cockroaches in Autumn, "the cheeses were brought. All white except the Roquefort, they lay scattered over the board at odd angles, like cows grazing or ships at sea." As well as exquisite similes such as these, a deeply satisfying precision of expression is sustained throughout her work, and an arresting facility for capturing the circling, convoluted progressions and digressions of thought.
Perhaps this last talent is why she was chosen to translate Swann's Way for Penguin's Christopher Prendergast edition. Different as Davis is to Proust, their affinity for how the mind articulates itself is pronounced. Other writers to whom she can be compared more directly include Grace Paley, Franz Kafka, Donald Barthelme, and the Austrians Peter Altenberg and Thomas Bernhard (Davis spent part of her childhood in Austria, and is fluent in German as well as French). Two of her stories, In the Garment District and A Murder in Bohemia, could have been lifted directly from the death-stalked pages of Bernhard's The Voice Imitator. Most of all, however, she bears comparison with Robert Walser, whose own work divided itself between numerous unusual and repeating forms, many of which also inhabited that uncertain zone between story, journal entry and what seemed like a presently developing thought preserved in prose.
Many of Davis's stories are themselves musings on how to tell the story they want to tell; this kind of framing could be irritatingly fussy, but in her hands it becomes a scalpel paring away the things we think we require to tell stories, or to be told them successfully: character, for one, and plot. It's not that Davis's stories don't have characters, or that she can't create them with convincing force – read Sketches for a Life of Wassilly (1982) or In a Northern Country (2001) to be disabused of those notions – but rather that she doesn't follow the typical rules. She elicits emotion; she generates suspense and engenders surprise, pleasure and revelation. She does all the things it is in a good writer's gift to do, but in ways that most writers don't think of.
In the wonderful Extracts from a Life, a four-page collapsed or compacted novel, the narrator is so moved by a performance of Mozart's Clarinet Quintet that he admits: "I now felt as though I were under direct orders from Mozart." I don't feel quite like that when I read Davis, but am often reminded of her line in Kafka Cooks Dinner: "I sit here reading in the afternoon, myrtle in my buttonhole, and there are such beautiful passages in the book that I think I have become beautiful myself."
A brief survey of the short story