Self-Portrait With Charlie (1995) by David Hockney.
Photograph: David Hockney
The top 10 self-portraits in art

From an anxious Lucian Freud to an enigmatic Rembrandt and a noirish Cindy Sherman, these self-portraits take the selfie to a new artistic level
Jonathan Jones
Thursday 4 September 2014 14.23 BST
David Hockney – Self-Portrait With Charlie (1995)
Hockney is ruthless in his self-portraits; he never poses or tries to look good. What he does is to record the act of self-portraiture – the fact of a painter looking in a mirror and trying to record what he sees – and give it a deliberately awkward material truth. In doing so, he paints the ideal of honest observation.
Parmigianino – Self-Portrait in a Convex Mirror (c 1524)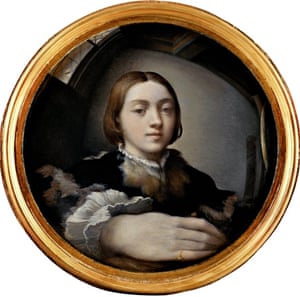 It's not only modern artists who portray themselves in thought-provoking ways. In the early 16th-century, Parmigianino looked at himself in a convex mirror and painted his distorted reflection, his huge hand close to the surface of the picture, his face the focus of a selfie-like bubble image, in which time and space warp vertiginously. This precocious painting is the theme of John Ashbery's great poem,
Self-Portrait in a Convex Mirror
.
Pablo Picasso – Self-Portrait Facing Death (1972)
Picasso always portrayed himself with big eyes that seem to swallow up the beholder, insisting, even as he turns himself into a painted object, that it is he, not you, who does the looking. Those eyes were never bigger – or braver – than in this unillusioned, atheist painting of the artist battered by time and recognising the nearness of his own mortality.
Lucian Freud – Reflection With Two Children (Self-Portrait) (1965)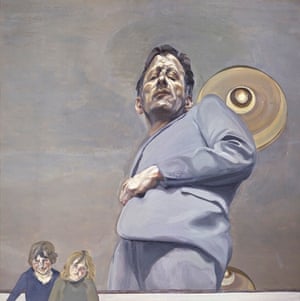 The artist is a colossal father figure in this uneasy painting. Seen in a mirror, he dwarfs his tiny children. It is a painting of alienated and anxious self-consciousness. Mirrors have been essential tools of self-portraiture since Parmigianino's time. In this and other paintings by Freud, that technical fact is made disturbingly explicit as the artist coldly views his reflected image. It is as if he is painting a monstrous stranger. Freud's self-portraiture exposes at its sharpest his acute sense of the discomfort of being a person.
Frida Kahlo – Self-Portrait With Cropped Hair (1940)
Frida Kahlo's shorn hair floats as if it were a living thing in this dreamlike painting. Has she really cut off her hair? Raw reality meets bizarre surreality in Kahlo's art. She painted this self-portrait after divorcing Diego Rivera, whom she would remarry shortly after. It evokes Catholic images both of long-haired magdalenes and ascetic martyrs. Kahlo is a martyr to love, as the song lyrics written on the picture reveal: "Look, if I loved you it was because of your hair …"
Rembrandt – Self-Portrait With Two Circles (c 1665-69)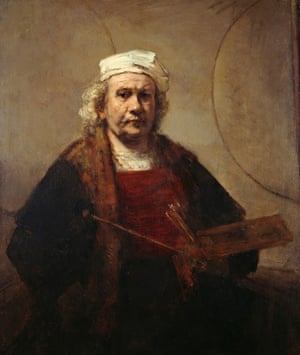 To stand in front of this painting is to be scrutinised and found wanting. Rembrandt looks at you with eyes that are dark portals of consciousness, memory and time. He is paused in the act of painting, dressed in the robes of a master. The enigmatic circles behind him represent a world he is making. The richness of the paint is somehow incidental to the shocking, undeniable feeling that a real person looms before you. Rembrandt is a magus; his spell heals and inspires.
Artemisia Gentileschi – Self-Portrait as the Allegory of Painting (1638-39)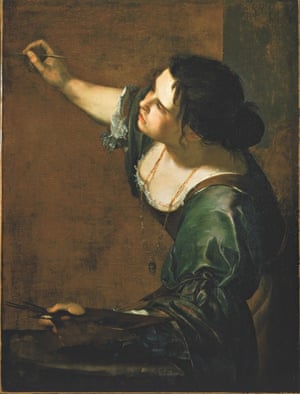 The muses are female in ancient Greek mythology. For 17th-century painter Artemisia Gentileschi, one of the few women to have a successful career in art in early modern Europe, this was an opportunity. Where a male artist might show himself portraying a woman dressed up as a muse or with a picture of a muse behind him, Gentileschi can show herself personifying painting. Yet any acceptance of a subordinate allegorical role is fiercely contradicted by her tough, muscular image. Painting is a woman, painting is a hero, painting is a worker.
Cindy Sherman – Untitled Film Still #48 (1979)
The concept of self-portraiture is dismantled in the works of Cindy Sherman, which depict the artist but never reveal her "true" self. Her art is a masquerade, an endless series of roles that portray her as a hero or monster. This image comes from Sherman's early and most poetic series, in cinematic black-and-white, in which she imagines herself as a Hitchcock or film-noir character in an American landscape, where anything can happen.
Rembrandt – Self-Portrait With Saskia (1636)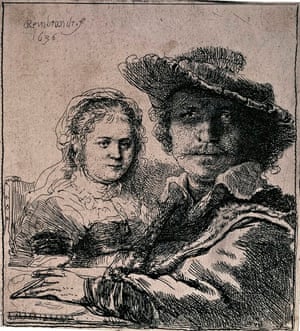 The artist lets us see everything in this etching – how he works and how he lives. In fact, art and life are gloriously inseparable for Rembrandt. He is sitting happily at home with his wife, Saskia, their mutual contentment cosily apparent. His shadowed face and drawing hand contemplate their combined image in a mirror that reveals art not as a remote formal activity, but as a part of life.
Tracey Emin – I've Got It All (2000)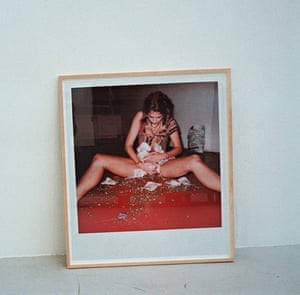 Self-portraiture takes new forms in the art of Tracey Emin. This gleeful selfie was made after she became famous for My Bed, which was shortlisted for the Turner prize in 1999. My Bed is itself an expressionist, readymade self-portrait. Emin's art is all about her. That is what makes it powerful – because when all is said and done, her own life is a bloody good subject.