Raymond Carver
Beginners
by
Raymond Carver
Tim Adams revels in the unexpurgated Raymond Carver
Tim Adams
The Observer, Sunday 1 November 2009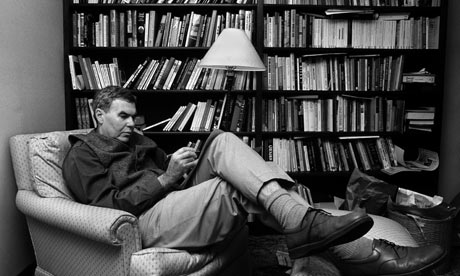 Where does a writer's voice come from? From the intuitive stylistic choices that the author makes on the page? We like to think so – it's what lends the most recognisable of prose styles their authenticity. We know Hemingway's voice, and Henry James's, and we believe that in their cadences we can also hear a psychology and a world view. When Raymond Carver emerged as a short story writer, he also had one of those instantly recognisable voices; unsparing, honest, describing American small town lives undone by booze, forlorn hope and rough luck: Carveresque. The voice seemed to match exactly the author photograph on his books' jackets, both flint-eyed and vulnerable. The first story I read by Carver, "Mr Coffee and Mr Fixit", had an opening line that seemed to sum that face up: "I've seen some things." You never for a moment doubted it.
Until now. Carver's second collection of stories,What We Talk About When We Talk About Love, which included "Mr Coffee and Mr Fixit", has been republished as Beginners. It's not the same book, though. Since Carver's death – of lung cancer at the age of 50 in 1988 – a battle has been fought between his second wife, the poet Tess Gallagher, and his one-time editor, Gordon Lish, who promoted Carver at Esquiremagazine and subsequently published him at Alfred A Knopf.
Lish, it has emerged, was the co-author of the "authentic" Carver voice. He took each of Carver's stories in his first two collections, the books that defined Carver's reputation, and rewrote them in many places and cut them back hard – sometimes by up to three-quarters of their length – to reveal the author he wanted to promote as "Raymond Carver". For Carver's first collection, Will You Please Be Quiet, Please?, written when he was locked in a failing marriage and submerged in alcoholism, the editing might have been interpreted as an act of salvation. By the time Beginners was delivered, however, Carver was sober and more content and confident of what he wanted to say. Lish took his red pen to the stories all the same and made them sound how he, and Carver's growing legion of admirers, expected them to sound. They wanted grit, not redemption. Gallagher has fulfilled the promise she says her husband made to her, to one day have the stories published uncut.
I started to read Beginners by comparing it line for line with the original. The extent of Lish's intervention quickly becomes apparent, and also his intent, which was to make Carver in some ways a less nuanced writer, accentuating his "blue collar" credentials, stripping away sentiment. If this sounds like an act of bullying ego, it probably was, but it is also worth remembering that What We Talk About When We Talk About Love was, and is, an extraordinary book, probably the most influential story collection of the past 30 years.
After a while, I stopped the compare and contrast and just readBeginners straight through. It, too, is an extraordinary book, more generous and rambling in tone than its distilled counterpart. All through, I was heartened by the sense that the writing was still recognisably Carver's, before being struck by the incongruity of that thought.
Editing of Lish's kind is a dark art, but not so unusual. I used to work for a literary magazine, Granta, where the editor, Bill Buford, brought a Lish-style idea of editing to all the content. In some pieces, long stories of 10,000 words or more, not a sentence of the writer's original draft stood. Many writers were grateful for these interventions: they had never sounded so good. Some, of course, balked at the mauling. Carver's friend Richard Ford, for one, would always take Buford back through any story and painstakingly argue for the choice behind every word and comma until the original was restored exactly, not in every case better, but all his own.
Perhaps Carver lacked the conviction for such an effort of will or, perhaps deep down, he feared Lish knew best. Whatever, the publication of this book will set in motion a new publishing trend – the author's cut. Not all of the results will be as good as Beginners.