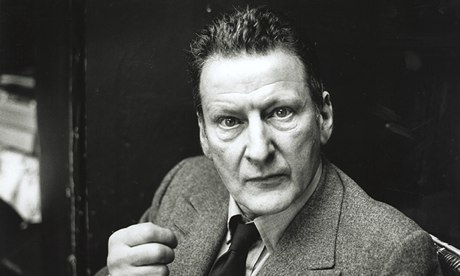 Geordie Greig
stalked
Lucian Freud
from the moment his Eton college master took him to London to see an exhibition of the artist's work at the Antony d'Offay gallery in 1978. The 17-year-old Greig, now editor of the
Mail on Sunday
, was transfixed in particular by the exposed ginger genitalia that are the focus of Freud's
painting
Naked Man with a Rat
, the experience of seeing which was, he recalls, "like encountering Keith Richards crossed with Picasso: libidinous, risk-taking, bold and threatening". There were other distractions at the time for the diminuitive art lover, "the Sex Pistols and the Clash" among them apparently, but Greig had a private inkling Freud "would somehow be important". When he got back to school he immediately sent the painter a letter asking for an interview for the school magazine. He received no reply but so began a "mission to know about him and his paintings which was to last 30 years".
The subtext of this posthumous, gossipy
biography
is the tale of Greig's shameless pursuit of that mission. Lucian Freud was never a man afraid to say no. He said no to the Krays, among many others, when they asked him to repay gambling debts. He often said no to wives and lovers and children when they asked him for money or fidelity or loyalty. He said no to anyone who asked to be painted by him (with the exception of Kate Moss). He said no to potential biographers – paying one off having read a draft, "appalled that so many intimate details would enter the public domain" – and apparently sending East End gangster friends round to another's house to put the frighteners on to prevent publication. He said no to a CBE "for entirely selfish reasons".
But eventually, it seems, after about 20 years of a courtship that involved many unread letters and rejected commissions and the writer eventually taking up residence in the basement flat of the building where Freud had his studio, he said yes to Geordie Greig.
"This book has avoided his obstructions," writes the author oddly and triumphantly of his deceased subject in the preface. The subsequent account of an extraordinary, complex existence rests partly on conversations the pair had at Sally Clarke's restaurant in Kensington Church Street, where Freud breakfasted most mornings in the last decades of his life with his loyal friend and assistant
David Dawson
, and a revolving cast of characters that occasionally included Greig.
From accounts of this table talk the editor aspires to be the artist's Boswell, though the vaunted intimacy – recounting his children's impressions of meeting the artist, his wife sharing a carol sheet with Freud at the Rothschilds' annual Christmas party, a scrawled diary entry of his own name in Freud's hand – at times feels a little desperate. At one point, Greig relates a story of "delivering a copy of the Evening Standard [of which he was editor] to Freud's home one evening". The front door was opened a fraction and a 10in serrated knife was pointed at Greig, who essayed a nervous laugh. "'Lunatic Artist Stabs Editor ofEvening Standard is not a good way to be remembered,' I said." "I can think of worse ways," Freud muttered and let Greig in for a cup of tea.
If anything, the forced-entry feel to much of the book adds to its sense of a private life, once guarded with menaces, now exposed. Greig has done a lot of legwork – tracking down lovers and confidantes and subjects of Freud's work, including Raymond Jones, who posed for the portrait holding a rat, the painter's first full-length nude. Jones's account of sitting is revealing of the twin obsessions of Freud's life. "Sometimes there was a knock at the studio door at Holland Park and a woman would come in and go straight into the bathroom," Jones recalls. "Lucian would have said to me, 'I am just taking a break. I won't be that long.' More often than not there was then the bang, bang, bang noise of her being shagged, not on his bed but always behind the bathroom door. Lucian would have a bath after his exertions, wandering back into the studio naked. He would say, 'I've just had a bath to settle myself down and now we will carry on.'"
At one point, Greig asks the artist how he spent his time in the periods of his life when he seemed to have been slightly less than manically productive. "Well, there were girls," Freud remarked with some understatement.
The balance between Freud's devotion to his art and to his libido seems to have been always weighted toward the former, but that is a difficult emphasis for a biographer to observe. At times in his portrait of the artist, Greig seems at pains to remember, and to begin to analyse, the greatness of Freud as a painter, but generally, the story of the complicated parade of debutantes and heiresses and wives and daughters of close friends who shared Freud's bed (or bathroom), consecutively and concurrently, takes over. Greig's years as editor of theTatler prove invaluable here as love triangles become dodecahedrons: "In 1948, the year that Freud married Kitty," he will typically write, "and also when his first child Annie was born, he met Anne Dunn… a stunning charismatic 18-year-old artist with whom he would have an intermittent affair for the next 25 years. One time in Lucian's studio Anne was struck by some pictures she saw stacked up there, painted by Lorna Wishart's [a former lover] son Michael.
Two years after Lucian started his affair with Anne, she married Michael, and Michael confessed he had a brief sexual relationship with Lucian. To complete the circle, Kitty later revealed to her daughter, Annie, that she had had an affair with her Aunt Lorna's former lover and rival to Lucian: Laurie Lee (and in 1950, Lee married Lorna's niece…). And so on.
That Freud negotiated these webs of romance and deceit – there are 14 acknowledged children and maybe 30 more – is attributed to a couple of traits: his absolute absence of remorse or guilt, and his singular fidelity to his work. Greig absolves him from the fallout about as lightly as the painter absolved himself. Asked by the author: "Did you want children?" Freud replied: "No… but it seemed quite exciting when women were pregnant. I don't like babies. I think partly because they are so vulnerable. But I'm very good with older children." The children that Greig interviewed would appear to dispute the simplicity of that latter statement, though Greig asserts that they "loved him unreservedly".
Freud never professed any interest in his grandfather Sigmund's principal legacy and to his credit, the author does not attempt much in the way of sub-Freudian psychoanalysis of his subject. He leaves the reader to weigh any possible connections between Freud's emigre childhood (he escaped Nazi Germany aged 10), his lifelong anxiety about his own legitimacy (fuelled by the taunts of his estranged brothers, Clement and Stephen), his troubled relationship with his mother and his chaotic, creative life. Despite, or because, of all its anecdotal detail, however, this book does not convincingly lead you to an intimate understanding of the artist. For that you would, of course, be better off looking again at the paintings.