Marion Cotillard
Marion Cotillard on Woody Allen:
'The experience we had together was very odd'
The Midnight in Paris star said she was 'ignorant' of stories of alleged sexual abuse and would 'dig more' if he asked her to work with him again
Friday 19 January 2018
Oscar-winning actor Marion Cotillard has spoken about her experience of working with Woody Allen on the set of Midnight in Paris.
The star, who won best actress for La Vie En Rose in 2008, was asked to give her thoughts on Allen after his estranged daughter Dylan Farrow reiterated, in a televised interview, her claim that he sexually abused her.
"I'm very ignorant of what he did or he didn't do, I just see people suffering and it's terrible," she said to the
Hollywood Reporter
. "I have to say today, yeah, if he were to ask me again … I don't think it would ever happen because the experience we had together was very odd. I admire some of his work but we had no connection on set."
Cotillard starred alongside Owen Wilson and Tom Hiddleston in the 2011 comedy. She claims she wasn't that aware of Allen's life off-camera when she made the film.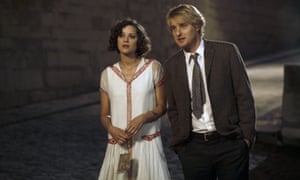 Marion Cotillard and Owen Wilson in Midnight in Paris. Photograph: Sportsphoto/Allstar
"I didn't know much about his personal life, actually," Cotillard said. "I knew that he had married one of his daughters which I thought, honestly, was weird, but I cannot judge something I don't know."
If Allen were to ask her again, Cotillard says she would do more research this time. "I have to say if he asked me to today I would question more, I would dig more," she said.
Cotillard is the latest actor to talk about Allen after questions about the alleged abuse of his daughter have been brought up again. In an op-ed for the Los Angeles Times last year, Dylan Farrow accused the industry of hypocrisy for welcoming the #MeToo movement yet refusing to expel her father.
This week, Colin Firth told the Guardian he would never work with him again; Greta Gerwig and Mira Sorvino shared similar sentiments. Rebecca Hall and Timothée Chalamet have announced they will both donate their salaries from his next film A Rainy Day in New York to charities.
Alec Baldwin, who has worked with Allen on Blue Jasmine and To Rome With Love, defended him on Twitter. "The renunciation of him and his work, no doubt, has some purpose," he wrote. "But it's unfair and sad to me. I worked w WA 3 times and it was one of the privileges of my career."