J Balvin
J Balvin review – Colombian megastar continues domination on his own terms
Brixton Academy, London
The vocalist behind Mi Gente and a host of crossover Latin remixes does a London victory lap – and his caramel tones show him to be a lover not a fighter
o happy that J Balvin songs are gaining popularity in Russia," a fan in Moscow declared on Instagram last week. Her comment was promptly regrammed by Balvin for the benefit of La Familia – his 20 million followers – as if they needed any more evidence that the Colombian reggaeton superstar is galloping across international musical borders. José Álvaro Osorio Balvin to his intimates, the 32-year-old has benefited from a confluence of factors. Latin music spiked in popularity worldwide last year thanks to Luis Fonsi's Despacito and Balvin's own single Mi Gente, which in turn positioned Balvin – who happens to be photogenic and personable – as the man to make reggaeton a properly global concern.
He is qualified to do it. Balvin reworks the genre's tropes, cutting back on the machismo and baring his emotions, and has fun with his presentation while he's at it. His interest in fashion won him an ambassadorial role at New York fashion week last winter; tonight sees him in a sequined tracksuit that would have done Elton John proud in 1975.
Balvin's pivotal move, though, is linguistic. He speaks fluent English but refuses to sing in it, insisting – with growing success – that the rest of the world make the effort to understand him, rather than vice versa. Non-Latin artists are meeting him more than halfway, with Beyoncé and Pharrell Williams having sung in Spanish when guesting on his singles. Tonight, English is used sparingly, mostly between songs. "My name is J Balvin, from Medellín, Colombia!" is about the extent of it, and the large Colombian contingent are delighted.
This is a sharp-edged arena-show-to-be, with a scaled-down version of the smoke, sirens and other fillips he'll undoubtedly employ with a freer hand once he moves into big venues. He opens with an oozy Safari; the recorded version features Pharrell, but his absence here allows us to be covered in the caramel of Balvin's Latin trap. His 2015 remix of Justin Bieber's Sorry is rejigged as blaring Hispanic EDM, and MC Fioti's Bum Bum Tam Tam – remixed with Balvin, Future and Stefflon Don – is made over into a tense duel with Brazil's Fioti, the only guest who could make it to south London.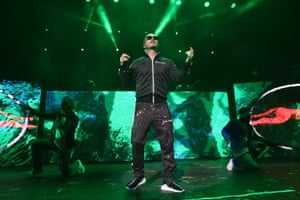 By the time he slots in a cracking dembow-rap version of another big-name collaboration, the French Montana track Unforgettable, it's clear Balvin is showing off. That's understandable, though. If Brixton Academy is a victory lap, why not load the set with your famous friends – or at least their songs? They also delineate between Balvin the nascent A-lister and the other Balvin – the guy who strolls across the stage, analysing his romantic relationships to a degree that would embarrass his more laddish friends. In Ay Vamos, for instance, he's riven with frustration: "We're polar opposites, that's why we like each other!"
His syrupy and languid voice and his easy delivery distinguish him from reggaeton's typical brashness. There's little of Daddy Yankee or, heaven forbid, Pitbull about him. Balvin is essentially a lover, not a fighter. It would be excellent if he manages to achieve what he calls "his dream" of global fame without extinguishing what makes him interesting.