Paraguay rejects pressure
to allow child rape victim to have abortion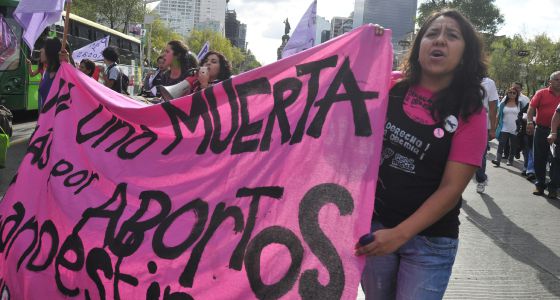 She is 10 years old and barely weighs 34 kilos. Yet she is five months pregnant and will be forced to give birth to her baby if international pressure does not push health authorities in Paraguay to let her have an abortion.
The young girl was raped by her stepfather in Luque, a small town outside the capital, Asunción.
In Paraguay, abortion is only allowed if the mother's life is in danger, but even then it has only been practiced once, in 2009, after health officials bowed to international pressure.
Various humanitarian organizations have tried to convince the Paraguayan government that the girl's life is at risk, but officials so far have refused to budge.
"This is a blow to human rights," said Elba Núñez of the feminist rights group CLADEM.
"Officially, this is a secular state, but there is so much pressure from conservative groups," said María José Garcete of Amnesty International's Paraguay sector during a telephone interview.
Both groups are supporting the girl's mother, who has been jailed under the suspicion of being an accomplice to her husband's abuse. Authorities are looking for the stepfather, who fled when the case broke. The girl has been taken from her family and will have her child if the government has its way.
Officially, this is a lay state but there is so much pressure from conservative groups"


María José Garcete, Amnesty International's Paraguay sector
Last year, the girl's mother filed a child abuse complaint against the stepfather, but authorities never acted on it.
Health Minister Antonio Barrios, who was President Horacio Cartes' personal physician before joining his Cabinet, has rejected the idea of letting the girl have an abortion.
"If she was to have an abortion, she should have had it before her 20th week of pregnancy. The pregnancy will not be interrupted and we have completely ruled out any abortion," Barrios told the local Paraguayan press.
The case is not an unusual one. Last year, about 700 Paraguayan girls between the ages of 10 and 14 gave birth, according to statistics from the Clínica Hospital in Asunción. In most instances, the children had been victims of rape.
No minor has ever benefited from Article 109.4 of the country's health code, which allows abortions if the mother's life is at risk.
Even though Paraguay's economy has grown in recent years, poverty is still rampant. In poor families, pregnancies among young girls and teenagers are common.
Luque Judge Pili Rodríguez, who is presiding over the girl's custody case, told EL PAÍS that the Paraguayan Constitution protects life from the time of conception.
"I don't know of any case where an abortion was practiced on a child in Paraguay," she said in a telephone interview. "As of now, the medical reports do not say anything about her life being at risk. It will be up to the doctors to decide."
"We need to protect this child now that her father has been gone for many years, her mother is in jail, and her stepfather is a fugitive from justice. What we need to do is to concentrate on a prevention system so that this never happens again," Rodríguez said.
Various NGOs have called on the Cartes administration to allow an independent medical board to evaluate if the child faces risks if she has her baby, but the government has refused to bow to international pressure.
"The Paraguayan government made a mistake," said Núñez of CLADEM. "The mother went to the authorities four times to complain about the abuse that was taking place. It was she who also took the girl to see the doctor 13 days ago."
"The first doctor that saw her spoke about the risks to her life, and that is why she wants an abortion for her daughter. The government reacted by criminalizing her and throwing her in jail. She also fears for her life because the other female inmates also blame her," added Núñez. "Everyone asks why she remained with that man, but she too was a victim of abuse, and we all know what those situations are like."
"The girl has been separated from her family, and can only see her aunts for two hours. It has been torture," Núñez said.