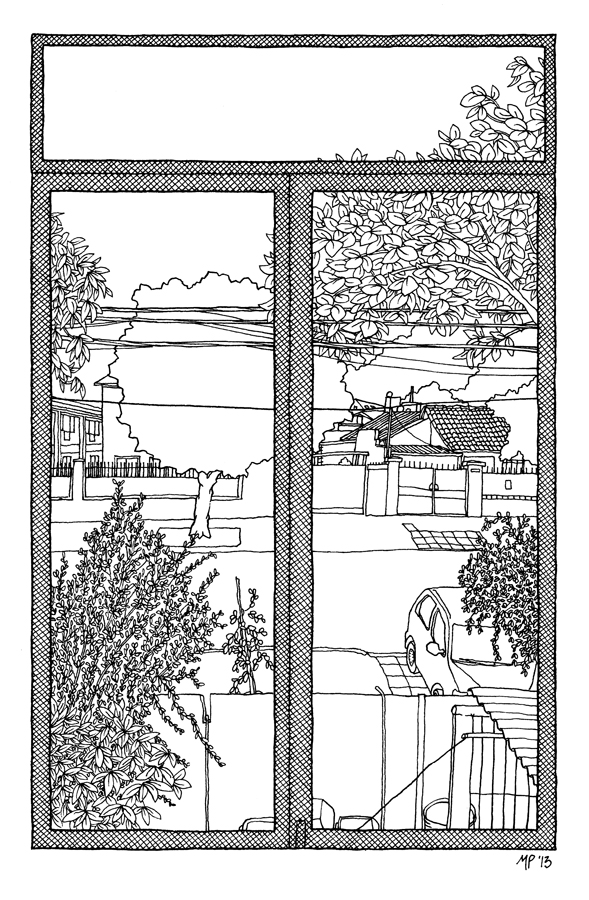 Translated from the Spanish by Harry Backlund
A series on what writers from around the world see from their windows.
The Paris Review, April 5, 2013
I'm not sure that my little studio is the best place in the house to write. It's too hot in summer and too cold in winter. But I like this window. I like those trees crossed by power lines and that slice of available sky. The silence is never absolute, or maybe it is—maybe my idea of silence now includes the constant barking of dogs and the uneven roar of motors. I take enormous pleasure in watching passersby, the odd cyclist, the cars.
When the writing isn't happening I just sit there, absorbing the scenery, adoring it. I'm sure those minutes, those apparently lost hours, are useful in some way, that they're essential for writing: that my books would be very different if I had written them in another room, looking out another window.
Matteo Pericoli is a famous drawer of cities. He is known for his witty, loving, obsessively detailed renditions of the Manhattan coastline (Manhattan Unfurled), the perimeter of Central Park (Manhattan Within), and the banks of the River Thames (London Unfurled).
Several years ago, Matteo began to draw New York from a new vantage point—from its windows. He asked artists, writers, politicians, editors, and others involved with the cultural life of the city to let him draw whatever they saw when they looked outside. These were collected in the book The City Out My Window (and the view from 62 White Street appeared on the cover of The Paris Review).
In 2010, the project grew. Matteo was commissioned by The New York Times op-ed page to draw the window views of writers around the world, and the writers were asked to describe them.