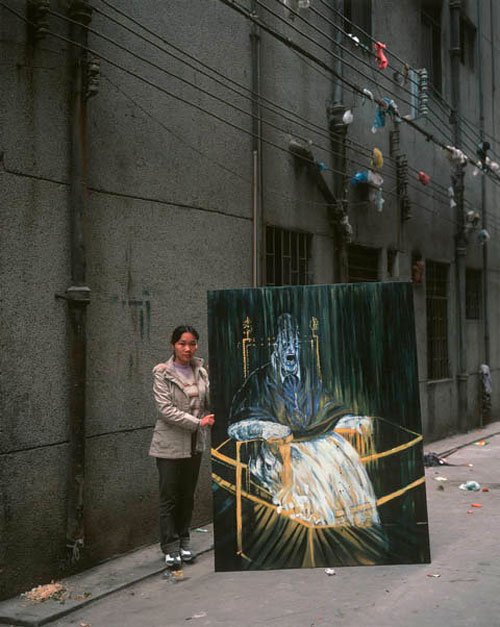 Real Fake Art
Strange, this is how these pictures appear at first sight. In front of typical Chinese urban backdrops young Chinese men and women present oil paintings by American and European artists from different epochs. Rembrandt, Van Gogh, Andy Warhol, Ed Ruscha, even photographs by Lee Friedlander, William Eggleston, Bernd and Hilla Becher or August Sander can be found among the works. What stands behind all this?
In fact we see pictures of a multi-million dollar industry – the production of copies of popular artworks, which are sold at giveaway prices into the whole world. Van Gogh: $ 75, Andy Warhol: $ 45, Ed Ruscha $ 50. The handpainted copies mainly come from China, the buyers can almost entirely be found in the United States and Europe, the countries of origin of the unaffordable originals.
Michael Wolf has photographed the Chinese copy-artists in a fantastic way and in his pictures he has placed manifold relations between the picture subject, the urban environment and the portrayed artists, that reach far beyond the superficial humor. The list of questions, which arise, is long:
- Did Rubens and Rembrandt paint their works all by themselves?
- Aren't the copies produced, in order to palm them on collectors?
- What's the value of an original in the age of technical reproducibility?
- Why do the Chinese provide this market?
- What does this mean for other industries?
Boris von Brauchitsch discusses these and other questions in his comprehensive essay, which accompanies the series of images.
Knock-off artist in China pose next to their paintings.
I'm not sure if these are students or what. Considering this series was taken in China, I would say these will be sold on the black market of some sort. Who knows. Make sure to check out Michael Wolf's personal site so you can view the whole set, the artist's copy pretty much everything, from pop art to modern and contemporary.
I guess there's a "fake" market for everything!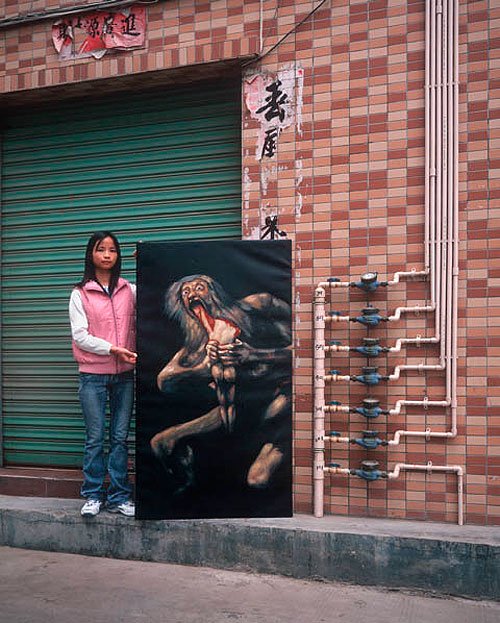 From: oilpainting-a@sohu.com
Date: Thu, 14 Jun 2007 09:04:52 +0800
Subject: From the oil painting studio
Welcome to the Oil Painting Studio.
We have been successfully working with fine art galleries and artists internationally for over a decade. Our museum quality realism is created by 25 of Chinese most skilled artists. Each artist has been formally trained and has received their degree from many of the finest art universities in China and abroad.
We have always and will continue to respect international copyright laws. Your order of original art whether created from digital, photographic or any other form will never be recreated for another client. Each of our artists works inside the framework of their own specialty whether portraiture, landscape, marine, floral, still life or what ever your personal need may be. Our extensive community of fine artists is capable of creating exactly the fine art oil painting that you order. We offer an unconditional money back guarantee to all of our clients if you are dissatisfied with your shipment.
We look forward to a mutually beneficial relationship. Please contact us by e-mail with your requirements. Individual orders by private parties are gladly accepted. Deeper discounts are available on larger orders. Please contact us for details.
Sincerely,
The Oil Painting Studio.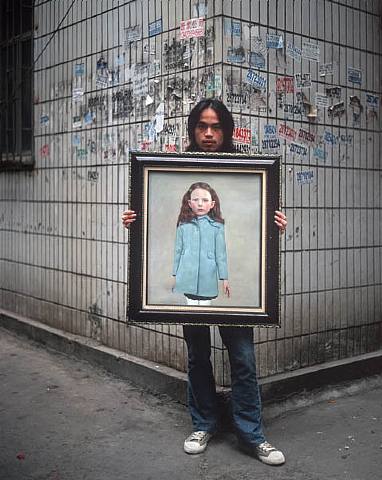 Michael Wolf
Real Fake Art
With an essay by Boris von Brauchitsch
112 pages
51 color illustrations
25 x 32 cm
Hardcover
English
EUR 40