Roald Dahl
Poster by T.A.
Philip Ardagh's top 10 children's books by Roald Dahl
To mark Roald Dahl Day, the winner of the Funny prize set up in his memory selects his favourite tales from 'the master'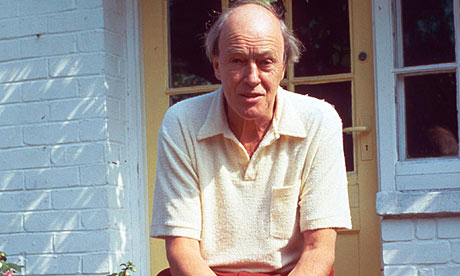 Children's author
Philip Ardagh
won the upper age category in last year's
Roald Dahl
Funny Prize for the first of his Grubtown Tales, and his Eddie Dickens adventures have been translated into 34 languages. He's also written funny stuff for radio (including BBC radio's first ever truly interactive drama) and is an "irregular regular reviewer" of children's books for the Guardian.
This year, he's a judge for the
Roald Dahl Funny prize
, which has given him "an excuse to immerse [him]self in some wonderfully inventive fiction from some of today's funniest children's writers".
He has an impressively large beard.
"Dahl was the master. When he died, I was working in a library. A child asked me: 'Who will write Roald Dahl books now he's dead?' Fortunately, his books live on for whole new generations, while we oldies have the excuse of reading them to our children."
In no particular order, his top 10 favourites are:
Beard-hating Dahl at his best in this tale of an ever-warring couple: repulsive Mr Twit and his equally repulsive glass-eyed wife. Not forgetting the monkeys. You mustn't forget the monkeys. If I tell you any more I might spoil the story. Read it. It's bonkers.
Matilda is a lovely girl. Her parents aren't. Matilda loves books and reading. Her parents love conning people and watching telly. School, ruled by the evil Miss Trunchbull, whose speciality is swinging children by their hair and throwing them out of the window, isn't much better. Then Matilda discovers that she has supernatural powers ...
The Grand High Witch has a simple but fiendishly clever plan to rid England of its children: her hags will take over all the sweet shops, and sell doctored sweets to the children, turning them into mice. (Did I say simple?) Fortunately, a boy overhears their villainous scheming. Unfortunately, he's turned into a mouse before you can say Jack Robi—
An everyday story of evil aunts (Sponge and Spiker), a giant, flying fruit (the peach of the title) inhabited by characterful, giant insects (including the Old-Green-Grasshopper) and, of course, James himself. Lots of funny policemen, too.
5. George's Marvellous Medicine
George's grandma is such a groucher, a grumbler and a griper that he decides to mix up some medicine to try to cure her of her nastiness. As with 94.8% of plans in Roald Dahl books, this one doesn't turn out quite the way George intended. The results are explosive!
Mr Fox is the good guy, looking out for his foxy family (at least that's how he sees it). Farmers Boggis, Bunce and Bean are certainly the baddies. In this battle of wits between farmer and "vermin", Mr Fox is tunnelling for food whilst the farmers are trying to dig him out. A simple tale told as only Dahl can.
A giraffe with an extending neck, a pelican with a bucket-sized beak, a dancing monkey and a boy with big ideas join forces to create the Ladderless Window-Cleaning Company. Their biggest job? To clean all 677 – yes, six hundred and seventy-seven – of the Duke of Hampshire's windows. Expect chaos in this lavishly illustrated silliness.
Spell "Esio Trot" backwards and you get the word "tortoise", which should give you a clue as to how crazy this (very short) novel is. It's about Mr Hoppy's unrequited love for Mrs Silver downstairs who, in turn, only has eyes for her pet tortoise, Alfie.
Dahl's best-known book has everything: grotesque characters, ludicrous situations and, of course, chocolate! Who could ask for more? When Charlie Bucket wins the last "Golden Ticket" to get a free tour of Willy Wonka's chocolate factory, he soon discovers that his fellow winners have bitten off far more than they can chew.
If flatulence, royalty and a giant with disproportionately large ears are what you're after in a story, this is the book for you. Throw in kidnapped orphan Sophie (snatched and taken to Giant Land) and a trumpet that blows dreams into sleeping children's rooms, and the result is an extraordinary Dahl-esque/Dali-esque vision.
NOTE: All of the above are illustrated by Quentin Blake. What a marriage made in Heaven that was!